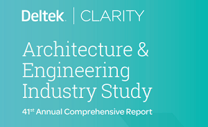 Projects are the bread and butter of A&E firms and well executed ones are an absolute necessity to remain competitive. Based on the results of the 41st Annual Deltek Clarity Report, A&E firms are aware of the need for project management responsibilities to be more clearly defined. Project information processes must be improved and there should be more investment in project manager (PM) training. Additionally, PMs require more visibility into KPIs to meet performance expectations. Here are some snippets from this year's report.
Project Management Challenges
The 41st Deltek Clarity Report showed the top three project management challenges facing firms to be the same for the third straight year. Those challenges are inexperienced PMs, staff shortages and competing priorities. PMs are at the center of project management, so they need to be better trained and be knowledgeable of firm and industry wide best practices. For firms to deliver successful projects, PMs across all projects should be keenly aware of their responsibilities. They should also become experts in their practice and to bring in other members that complement the team.
Project Status
According to this year's report, the number of projects that came in on or under budget is slightly higher than last year. With a six-percentage point increase to 72% for architecture firms and high performers coming in with 75% of projects on target or under budget, project status appears positive. Additionally, two-thirds of projects were recorded as being current or ahead of schedule which is up two percentage points from last year. Visibility into project financials and KPIs plus targeted PM training positively impacts project execution.
Tracked KPIs for Project Management
In the survey, and consistent with last year, most A&E firms track profitability (92%) and net revenue (91%). Next is average collection period (87%) and multipliers (80%). The least-tracked KPIs remained on-time delivery, schedule variance and earned value management. The report again indicated, based on these findings, that there was a need for greater project visibility. Increasing efforts to track those KPIs would in fact improve project success, business performance and client satisfaction. In particular, the failure to track schedule variance would be reflected in the percentage of projects determined to be behind schedule.
Measuring Client Satisfaction
Based on the 41st Deltek Clarity Report, 54% of surveyed firms do measure client satisfaction. The majority of those which are not currently doing so are considering it for the coming year. Engineering firms are more inclined to evaluate client satisfaction, and the larger the business, the more likely it is considered. Of those firms that measure client satisfaction, 58% do so for all projects. Firms use a variety of means such as in person to electronic surveys. While the executive team is usually in charge of contacting clients (50%), large firms rely on the PMs (56%) to monitor client satisfaction. Lastly, firms that do not regularly measure client satisfaction will not be very effective with process improvement.
Well Executed Projects
As seen in the 41st Annual Deltek Clarity Report, A&E firms understand that improving project management training and providing access to KPIs will lead to improved project performance. Additionally, leveraging tools to streamline project delivery and investing in both PMs and the whole project team will make the process much more efficient. When projects are well executed, clients are likely more satisfied, and firms earn repeat business. This ultimately keeps firms competitive in the A&E industry.