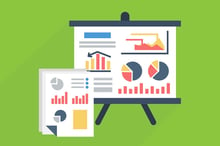 Business intelligence (BI) is playing an increasingly critical role in the strategic planning of organizations. The output of established analytics can be used to track performance against business goals, identify inefficiencies, optimize processes, report and share information consistently, and identify unrealized business insights, all in real-time across a growing number of browsers and devices. The options are plentiful, and it can get overwhelming as you determine where to start.
Before you can reach these autonomous, pilot-cockpit-type dashboards, you will need a strategy. This will remain fluid and evolve as you adapt to your firm's needs. However, it is important to establish a roadmap to ensure that your efforts remain focused and deliver value where it is most needed. Let's take a look at how to get there.
Identify Pain Points at a High Level
A basic first step is to summarize key pain points impacting your business. What are the questions your business is hoping to answer with its data? What are the information voids in your company? What reports are being run week after week to make decisions? Oftentimes, the pain points will evolve with your BI and shed light on areas needing attention.
An easy and high-value place to start is exception reporting. Exception reporting highlights potential problem areas in your data based on a set of criteria you define. Examples may include:
Executive staff need to have visibility when a branch has not met its profit goal;
A project manager wants a consolidated dashboard to display his or her projects as he or she may be stretching the budget;
Administrative support staff wish to easily see what project records need review and approval;
An employee wants to view a dashboard of outstanding items (i.e. timesheet submissions, learning and development courses, annual review progress).
This proactive approach to quick-glance data can be a strong starting point to develop your BI strategy while staying focused on important metrics that require action.
Review Organization Structure
How does your organization structure support your reporting needs? If you would like to produce reports by organization units (i.e. division, practice, group), then you will want to ensure that your system supports that structure. In the case of Deltek products, you may consider how you are utilizing organizations, teams, timesheet groups, and custom field associations. Furthermore, the firm and system structure will ultimately affect the data that is accessible by different groups.
Define Role Based KPIs
Each role in your organization has a unique business function. Frequently, these roles can share a responsibility that cascades down the business's organization structure.
Consider the various roles in your company. How can they be grouped into subsets that could be measured together; such as, will a project manager be measured with the same standards as a project principal or supervisor?
One fundamental metric for any company is managing accounts receivable (AR) – getting paid for services or products that have been delivered. Here is an example of role based KPIs, starting at the top of the organization:
CEO wants to ensure that the AR Aging is in a healthy position to deter cash-flow concerns. CEO is pleased as long as the AR >60 days is less than 10% of the total AR balance at a company level. If that target is not met, CEO can interrogate the data.
Group manager ensures the total accounts receivable >60 days remains below 10% of the total AR balance for his or her entire group. Data can be summarized by project principal and prompt a discussion with any principal who is above the 10% threshold.
Project supervisor ensures that AR >60 days is below 10% for each project he or she is responsible for. BI can prompt a discussion with any project manager who is approaching the threshold.
Project manager is responsible for ensuring that invoices are paid per the 30-day payment terms. Invoices aging over 30 days must be chased and addressed.
This example illustrates how a single metric is relevant to all roles. Therefore, a CEO can reference a dashboard in discussion with a group manager, who can then take it to the project supervisor, and onward down the hierarchy, directly to the project manager. Since this metric is consistently measured, each role understands the importance and relevance of his or her responsibility. This ties all roles to the financial success of the company.
Educate Team Members
It is important to educate on how defined measures are calculated. By doing so, your teams will clearly understand how their work is being measured and how their project success influences KPIs. BI tools can offer sophisticated and shiny visuals, but the end-user must understand how to use the data. Otherwise, the insights will be lost, or worse – misleading. Clean, simple data and education can provide clear definition to team members. Furthermore, it will give consistent data interpretation across all roles.
Measure the Firm's Success
As you navigate through the BI journey, pause to measure the success of your BI strategy and the analytics you are measuring. It is critical to gather feedback from the intended audience to understand how the BI tools are promoting productivity as well as transparency. Are the end-users interacting with the data and making smarter decisions because of it? By being agile in the BI development strategy, you can confidently deliver the most valuable analytical tools for your firm and ultimately power project success.