Accounting teams are typically some of the most engaged users of Deltek software having extensively worked with Vision and now Vantagepoint. With its cohesive environment, accounting teams can benefit so much from Deltek Vantagepoint, and if utilized properly, it can streamline accounting processes and promote transparency throughout the system. Let's take a look at the value of Vantagepoint for accounting.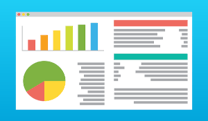 Creating Value for Your Team
Deltek Vantagepoint offers meaningful dashboards that give independence to executives and project managers alike. In doing so, this allows for accounting data to be viewed in real time, without the need to process reports and send to project staff. Some of the benefits that result from streamlined processes include:
Approval workflows keep business processes moving

Using approval workflows to automate daily tasks can reduce the time it takes to send final client invoices and process vendor payments. Vantagepoint allows for streamlined approvals on most functions in the system – timesheets, expense reports, accounts payable and client invoicing.

Intuitive search functionality allows for more timely record retrieval

Vantagepoint makes finding information quicker. Using Find on the menu allows you to quickly access a hub or area in the system.
When searching in hubs or reporting, simply type part of the field name and get a list of everything containing that name.

Financial statements and reports are available for timely and informed decisions

Dashboards are a great way to get a quick snapshot of your business regularly. Vantagepoint dashboards are intuitive and easy to create. Also, Vantagepoint is preloaded with the most common dashboards by role.

Firms in one location (clients and vendors are consolidated) allows accounting to view one record and understand the bigger picture.

The Firms hub in Vantagepoint allows you to view all clients and vendors in one hub. Clients and Vendors are linked in one record, allowing users to view client invoicing and vendor payments in one area. The records can be kept separate for reporting, if needed.


Bringing Teams Together
Tracking down employees to submit timesheets is typically an endless story that firms experience. With mobile time and expense, teams can get excited about more timely submissions because employees can use this to enter and submit timesheets and expense reports from anywhere. Receipts can even be uploaded from a mobile device, and an expense line can be created using Intelligent Character Recognition (ICR). With Vantagepoint, submitting timesheets and expense reports is not such a daunting task after all.
Another way that Vantagepoint brings teams together is streamlining and expediting the invoice review process. Accounting can quickly and easily issue draft invoices, and project managers can mark them up promptly. This clean process keeps the invoice cycle moving along. Other benefits include:
Automate bank reconciliation

Downloading transactions from the bank and importing into the Bank Reconciliation in Vantagepoint greatly reduces the time it takes to reconcile the bank. Setting up the import is quick and only needs to be done once.

Billing Made Easy


Use Batch Billing to run draft invoices and email directly to project staff for approval. In batch billing, once all options are selected, they can be saved to use for future batch runs. Example, if billing is run by project manager, Options can be saved by PM.
Streamlining of the invoice approval process, all approvals can be done within Vantagepoint. Project staff can view, make changes, view invoices after changes and approve all in Draft Invoice Approvals in Project Hub.
Flexible Billing Terms can be based on the project contract. Vantagepoint allows creation of the fee billing grid at the top level of the project but linked to each level. When you have a mixed project, Fee Based and Hourly, use sublevel terms to set up billing at different project levels.



Transaction Entry


In Vantagepoint, transactions are created and posted in the same area. Batch processing is no longer necessary. All transactions can be viewed in one screen, using the filter option to easily search.
Simplify Processes with Deltek Vantagepoint
Deltek Vantagepoint offers the tools and functionality to streamline processes between groups in an organization. The improved accessibility and collaborative features break down process silos and allow for a continual flow of information. Since invoices must be sent to receive payment, the streamlined process can shorten the billing cycle and keep cash flow in check.