For professional services firms, business development can be completed both with dedicated resources and/or "seller-doers." Because our firms have touchpoints with multiple people at our client organizations, information gathering and sharing becomes a critical piece to the success of our business development. When our firms can successfully manage the numerous interactions, identify projects that add to our pipeline, and collect the right information to position our firm better than our competitors, we win more projects, improve client satisfaction, and increase loyalty.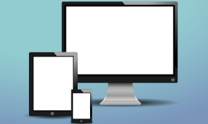 The abilities of Deltek Vantagepoint CRM can provide business developers, project managers, marketing staff, and executives with real-time information on all of the client touchpoints, project pipelines, marketing and service efforts. This ensures all firm goals are being met and provides for the shared resource of firmwide data. Deltek Vantagepoint's CRM strengthens your business development in the following ways:
Record Interactions On-the-Fly
The power of a CRM comes when everyone records conversations or information related to interactions with clients and contacts. Vantagepoint CRM provides users several ways to record these Activities and Touchpoints.
Web Brower – You can access Vantagepoint to record a contact interaction from your computer, laptop, tablet or phone using any web browser.
Hey Deltek! – Watch out Alexa, because there's a new voice command in town! Deltek has developed its very own voice automated service. You can use this now in the web browser and coming soon to the CRM mobile app. Simply record an activity by speaking to Hey Deltek!
Mobile CRM App – The Vantagepoint CRM app is available for both iOS and Android devices. Access all of your Firms, Contacts, Activities, and Projects inside the app. You can use your phone's native talk to text feature to automatically log activities and meeting notes.
Outlook Connect – Coming in early 2021 is the new Vantagepoint Outlook Connect. This integration includes a contextual email pane to view contact details, search Vantagepoint and create new records from your email. You will also be able to sync your contacts and calendar directly from Outlook to Vantagepoint. Connect also includes a scheduling assistant to help you find the perfect meeting time without all of the back and forth emails.
Vantagepoint makes it easier than ever for busy business development and technical professionals to log the critical information needed to build strong relationships with your clients.
Easily Uncover Client and Contact Relationships
Vantagepoint associates its Hub and Record information throughout the database. There are Hubs for Firms, Contacts, and Projects that are all interconnected. This means that you can associate any firm that is involved in a project – from teaming partners to program managers and general contractors. And, each time a firm is associated to a project, that project then appears on that firm's record in the Firm Hub. This same association works for contacts and employees as well. It also gives your business development team the insight into the relationships of your firm with your clients, contacts, employees, and projects – all in one location!
Support the Entire Business Development and Project Lifecycle
The business development process often begins with targeting clients, then getting to know contacts at those client organizations. Through this effort, projects are identified. At this point, your team begins preparing for the pursuit of that project through teaming, proposals, and/or presentations. The goal is to win that project and perform so well that you are awarded with repeat work.
Deltek Vantagepoint is designed specifically to support the entire project lifecycle beginning with the earliest business development stages. When you are targeting clients, you will be utilizing the Firms, Contacts, and Marketing Campaigns Hubs. In those you can begin to gather information about contacts and activities.
Then as a project is identified, it's logged into the Projects Hub in a pursuit stage. You will continue to use this same record through the pursuit and proposal stages. When this project record is created, a plan is also created so your project manager can begin to allocate resources and develop estimates.
When you are awarded the project, you will continue to use that same project record and update the stage and budget. All of the intelligence gathered in the pursuit of the project remains in the same project record you will continue to use to perform the project. This gives your business development and marketing staff the complete picture and history for that entire project.
Bring Everything and Everyone Together
Not only does the Vantagepoint solution encourage a collaborative environment, but it brings all your firm's business development processes into one unified platform. This enables business developers to do their jobs better. Be sure to check out our entire Deltek Vantagepoint mini-series to see how the product can help your employees and firm.