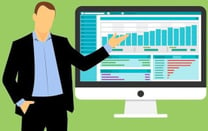 Project success is vital to any professional services organization, so project managers must be given every resource to ensure their projects are done on time and within budget. In Deltek Vantagepoint, there are numerous dashboards and ways to view information easily so project managers can access what they need to ensure that projects run smoothly and are on target. Let's check out the benefits of Vantagepoint for project managers.
Greater Visibility
Deltek Vantagepoint offers enhanced visibility to all users. Vantagepoint provides a major way to engage people with the system, specifically non-accounting users like project managers. With built in dashboards showing important numbers and graphs, plus a more intuitive reporting interface, every role in the project team can participate with the details regarding projects to ensure they are managed efficiently.
Focus on Project Health
The planning application itself is the most efficient tool to review project health and activity. Here, users can review profitability or billing multipliers with instant feedback while updating resource assignments. Additionally, Vantagepoint has detailed reports as well as a variety of standard dashparts to provide relevant information.
Flexible Project Management
Resource forecasting is all in the same house with Vantagepoint. With the resource view, project managers can control the resources for each project. In addition, with the Vantagepoint heat map, utilization of staff can be evaluated, and action can be taken based on those utilizations. Now there is a whole new interface for resource planning, and resources can be added from several different places. For example, resources can be added using the Resource view or the Project view. With these flexible options, project managers can easily see all details and can focus on resources and proper management of those resources.
Future Forward
Resource planning early in the process allows for better forecasts for resource allocation. With Deltek Vantagepoint, project managers can look at resources in line with awarded projects and pursuit projects out six or eight or even ten months. Also, there is a redesigned project review which is easier to read and has KPIs with calculations that make sense. Project managers have a one stop shop where they can see the performance of their projects which can be done in Project View.
Improve Collaboration with Deltek Vantagepoint
Deltek Vantagepoint has been designed to be more approachable, with simplified processes, enhanced visibility, and improved accessibility which has created a new willingness to contribute by all users. With a variety of dashboards and different ways to access important data regarding projects, project managers now have a much easier time keeping an eye on their projects. They can quickly see the results of their contributions to project management and rest assured that their projects will be successful.