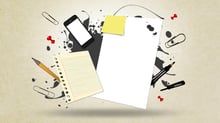 As a professional services firm, your business exists because of the knowledge and expertise of your employees. Staying competitive requires these employees to keep up with the changing times and current industry practices. A learning management system (LMS) can set your professional services firm up for success by providing your employees training content related to their positions. However, one of the challenges with an LMS is finding or creating the relevant content. With Deltek Talent and RedVector joining forces, your firm can now leverage pre-built ample content. Let's see the reasons why your firm should consider utilizing Deltek Talent's Learning Management System.
Comprehensive Training Library
To start off with, Deltek Talent teamed up with RedVector which provides a comprehensive training library including courses in project management, safety, industry codes and standards, leadership development and much more. The online library contains approximately 4,000 courses authored by more than 200 subject matter experts and accredited by 100 national and state bodies. This extensive offering eliminates the need for your firm to have to create content on the fly. Here is a complete list in the AEC course catalog.
Access Training Anywhere
Another key issue impacting employee learning is the time commitment. Many professional services firms require their employees to be flexible with their time and those employees often have to be other places during the workday besides at their desks. Conveniently, Deltek Talent is a cloud solution accessible from anywhere with internet access. Users can access content on-the-go from any device allowing employees to learn when it's convenient for them.
Training Content in One Location
One of the main advantages of having RedVector aligned with Deltek Talent is that professional services firms have content from day one. Furthermore, firms can add additional instructor-led, online, and external courses allowing users to access courses in one location. It is easy for users to document what courses they have completed so managers have visibility into their employees' development progress. With Deltek Talent's LMS, there won't be any problems with finding the appropriate content for employee enrichment.
Improve Performance & Retention
Professional services firms save a lot of time and money when their employees grow with the company and stay long term. Within Deltek Talent Learning, RedVector provides an assessment tool that helps determine the competency level of employees, new hires, or students and generates an individual training curriculum based on deficiencies in the assessment results. Thus, providing impactful learning opportunities that improves employee performance, reduces turnover and puts employees in the driver's seat of their own careers.
Reduce Risk
Finally, for highly regulated industries, managers need to track required training and certifications which can be done with Deltek Learning Management. Additionally, RedVector provides more than 500+ courses that address the most hazardous situations professional services firms face. Employees will learn how to recognize and prevent at-risk conditions or behavior before they lead to an incident. Having the correct employee certifications and providing safety awareness helps reduce employee and company risk. Here is a list of RedVector's health, safety and environment library collection.
Fuel Prosperity
Deltek Talent and RedVector combined focus on providing professional services firms with skills training, continuing education, and performance support to reduce risk and promote employee success. When firms help their employees perform better and grow in their careers, they not only retain the best employees but make certain they are engaged which leads to a prosperous outcome for all.