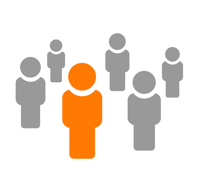 To stay competitive in the talent market for the A&E industry, HR professionals and business leaders must pinpoint core recruiting strategies that work best for their firms. To identify these strategies, they must first capture and analyze talent acquisition data. By using key performance indicators in their recruiting metrics, they can evaluate which strategies are worth keeping and which are not beneficial. So, let's look at some of these top talent acquisition KPIs.
Application Completion Rates
The number of completed applications by prospective employees shows how well your application process is set up. If more applications are incomplete versus complete, it means that your process is too cumbersome or confusing for potential talent. A good recruiting strategy incorporates an easy to use application system ensuring the best talent is found quickly.
Sourcing Effectiveness
It is crucial for recruiters to pick the most effective sourcing channels for top talent. Analyzing which sources deliver the best results is significant to a successful recruiting strategy. Seeing these metrics, talent acquisition managers and leaders can be more informed when determining which sources are worth their time and effort.
Retention Rates
Once talent is brought on board, it is significant to see how long the employment lasts. Looking at retention rates allows firms to see which positions are difficult to keep filled. Hopefully these metrics will provide some revelation as to what can be done to improve retention for the future. Perhaps certain talent targets can be better honed to prevent attrition.
Offer Acceptance Ratio
The entire talent acquisition process is futile if offers are not accepted. This KPI identifies how many offers are extended versus how many are accepted. If the acceptance ratio is low, then there are clearly problems with the recruitment strategies in place. Maybe it is taking too long to make an offer, or the compensation package is not competitive enough.
Workforce Diversity
Having a diverse workforce has demonstrated benefits including increased innovation and greater collaboration. Talent acquisition managers and leaders should track the levels of diversity in their hires. If your numbers are not diverse, it means that your recruitment strategy needs some adjustment.
Improve Recruitment Strategies Using KPIs
Talent acquisition KPIs provide much needed insight into choosing which recruitment strategies yield the top talent your firm needs to ensure future success. By evaluating what these metrics mean for your firm, much time and effort will be saved in the recruiting process. In the end, less recruiting equals less expense for your firm which positively affects the bottom line.