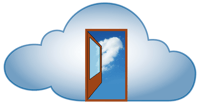 Out of all industries and professional disciplines, architecture, engineering and construction (AEC) leads in innovation. Not just in building design, but in how construction projects are completed. Among other efforts, the AEC industry is embracing modern technology to make projects and overall business more successful. Let's take a look at some trends.
Moving to the Cloud
Taking your software to the cloud is becoming an extremely cheaper alternative to hosting your own software tools. Software/Desktop as a Service (SaaS/DaaS) is changing the AEC industry for the better. SaaS/DaaS gives employees the ability to access the software products they use from anywhere with an internet connection. As a result, it's allowing firms to become more efficient and mobile.
Business development teams can retrieve important CRM information about their clients and prospects on-the-go. Project managers can update project records while they are on-site at the project. For AEC firms to stay competitive, they need to embrace SaaS/DaaS solutions to keep up with the changing times. Check out this link to learn more.
BIM Technology
Building information modeling (BIM) technology is not just for large firms anymore. It has now become economical for small firms and even the self-employed. With BIM, AEC firms can create digital models of structures…but it's not just a 3D representation of a structure; it's more like 6D. Whereas 3D is width, height and depth, the 4th D is time, the 5th D is cost, and the 6th D evaluates the environment and sustainability of the structure.
Even more, it's a shared knowledge base of project information. By using BIM, companies will be apprised of a project's status by instant access to all project information, even emails. Want to take Deltek Vantagepoint and Vision even further with project management? Check out Deltek PIM here for more information.
Software Integrations Using the Blackbox Connector
Third party software solutions can now be integrated with Deltek Vantagepoint and Vision. Using the Blackbox Connector for Constant Contact or Mailchimp, email marketing efforts are automatically updated in Vantagepoint or Vision. Instead of relying on plain spreadsheets for company business intelligence, firm employees can easily create real-time graphical dashboards with the Informer integration for Vantagepoint or Vision. Learn more about the Blackbox Connector options for Deltek here.
Stay Ahead of the Competition
Many AEC firm leaders are hesitant to make an investment into new technology. However, evaluating current practices and exploring ways to use technology to help streamline your business processes can prove to have a true return on investment. How can Full Sail Partners help you embrace modern technology?