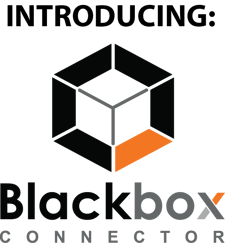 In the Deltek world, the Blackbox Connector is the trending topic. From marketing professionals gaining insight within Deltek Vision from their Constant Contact mailers, to finance managing risk and controlling expenses through Concur, people are asking about getting more out of their Deltek Vision system. Have you heard the buzz surrounding the Blackbox Connector? If you haven't, your first question might be, so "what is the Blackbox Connector?" If so, then this blog is for you!
What is the Blackbox Connector?
The Blackbox Connector is a no-code, low cost, integration solution for your Deltek Vision system with an easy to use API wizard. The purpose of the solution is to eliminate data silos by providing a better and more powerful way to create, update, reference and report on critical business intelligence across multiple platforms using Deltek Vision as your master record set. Our goal is to bring data together in a low cost, easy to maintain manner.
What Makes Blackbox Different?
Historically, integrations meant 'expensive' and required a lot of technical involvement. Not anymore. So what are the key differences between a custom integration and the Blackbox Connector?
IT teams are no longer bogged down with costly development cycles or constant evolving maintenance updates.
Users can utilize Blackbox's drag-and drop mapping wizard to link critical fields across systems to synchronize the two systems in a manner consistent with your business.
Data accuracy improves across your entire organization by eliminating manual imports and duplicated efforts because the integration is automatic.
The results? Providing a low, yearly cost that includes continued upgrade for both solutions and a seamless connection to Deltek Vision.
How Does the Blackbox Connector Work?
The Blackbox Connector's API Wizard enables you to easily connect Deltek Vision to third-party software. The configuration is as easy as setting up your phone to your Outlook email. Users will need access and links to both solutions and in minutes your software is connected. IT is provided scripts and user documentation through our Blackbox Connector portal. Standard mapping is pre-configured and users can further configure their field mapping using Blackbox's drag-and-drop mapping wizard. The Blackbox Connector portal handles the behind the scenes data processing, including advanced error handling and testing of your connectivity scenarios.
The connections are all made over web secure communication channels using web services to feed data to and from Deltek Vision – whether you host your Vision system locally or in the cloud, the Blackbox Connector platform can help your firm bring data together.
Why Blackbox?
The Blackbox Connector is a critical game changer with how organizations work within their Deltek Vision system. Our programmers are continuing to invest in commonly requested integration programs and your feedback can impact the next solution. Combine the best features of Deltek Vision with your other critical business systems to save significant hours for your staff and provide them with the tools needed to make faster, more-informed decisions.
Learn More.
Could the Blackbox Connector bring data together for your firm? Check out our website or schedule a demo to see how Blackbox can help your firm save time and money, while improving your overall experience in Deltek Vision.