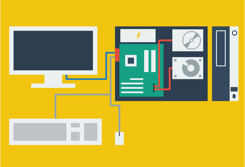 In essence, a User Interface (UI) guides users – it is a chain of screens, pages, buttons, forms or any visual element that interacts with a user. It may prompt the user to seek further information, navigate the site, make a registration or purchase decision with a series of clicks. Having a good user interface can ultimately change the way you work and process information for your business. There are many different aspects that a UI can offer to make things more efficient, quicker, and easier to understand.
Clarity
Clarity is one of the most important elements of a user interface design. The whole purpose of a UI design is to enable people to interact with your system by communicating meaning and function. Clarity throughout the application can make this easier and more efficient. One great way of simplifying an interface is to use whitespace which breaks up the content and allows the user to concentrate on the important areas.
Presentation
An interface that is poorly designed can drive incoming traffic away and leave a bad impression. Features such as attractive branding, color scheme, layout, graphics, tabs and other tools make a great design that users will want to utilize. You want the UI to look good while still having the right features to work well keeping users satisfied.
Easy-to-Decipher
Easy-to-decipher and consistent navigation that is simple to locate and browse through is the basic requirement for a good UI. If the navigation is complex for a user to work with, there is no way they will want to spend more time trying to figure it out. One way to make things better is to make buttons and options more easily recognizable by using the icons the users expect to see. A good example is the trash can as most users will understand what this does without further explanation.
Functional
In the end, it is all worthless if the UI's functionality is not up to speed. A quality User interface focuses on making the user interactions simple and efficient. Having such a user interface can go a long way in ensuring an exceptional user experience. Every single second a user spends on the interface is directly attributable to the functionality of that UI.
Make Sure Your User Interface is Exceptional
The User experience is tantamount to business success, and the User Interface is the most significant touch point for your users. If your UI is user friendly, it will be used repeatedly increasing your business productivity. Without a quality UI, the opposite is true, and that is why having a good User Interface matters.