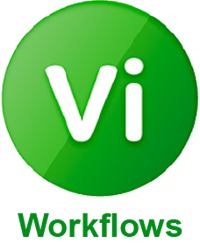 Most Deltek users have heard of Vision workflows but aren't aware of the vast capabilities they offer. From managing repetitive tasks to enforcing compliances and validating data, workflows are extremely versatile and easy to set up. Whether you are a workflow rookie or a veteran, let's take a look at some workflows that your firm should be using in Deltek Vision.
Different Types of Workflows in Deltek Vision
User Initiated -Allows set up of automated actions in Vision that are triggered when a record is saved, and certain conditions are met.
Contact Record Verification - Provides employees further insight on the validity of contact information by creating a workflow using custom fields. Employees simply check a checkbox, and through a workflow, the modified user and the date the checkbox was checked can populate reducing the number of fields the end user has to fill in.
Scheduled -Allows you to create automated actions that run at regular intervals via the process server.
Web Services – Allows you to set up an interface between Vision and external application.
Opportunities – Makes sure the business development team is following up on opportunities by creating actions and alerts that are prompted when an opportunity is opened, a stage is changed and when the opportunity is closed.
Types of Workflow Actions in Deltek Vision
Validate Error – Creates a "check" against the data entered and returns an error message.
Validate Warning – The same as the error but provides only a warning. The user will be able to save the record.
Email Alert – Creates an email to a specified person or role or another employee linked field (for example project manager).
Stored Procedure – Executes a SQL script on the Vision database. Requires knowledge of T-SQL and stored procedures. However, this allows you great flexibility to update information across all info centers in Vision.
Function – Calls well known Vision methods to do specific tasks like create a project from an opportunity.
Invoke A Custom Method/Invoke a Web Service – Requires advanced programing knowledge and web services.
Let Deltek Vision Workflows Work for You
These are just a few examples of things you can do with workflows in Deltek Vision. Setting these workflows up is easier than you think and will save you and your firm lots of time. Our team here at Full Sail Partners is ready to help you set up any Vision workflow you think would benefit your firm! Let us know if we can help you!