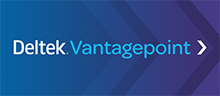 With the new Deltek Vantagepoint, Vision is re-imagined. Not only has the look and feel been improved, but there are many new enhancements that all users will love. This new browser-based solution helps your firm deliver more successful projects and grow your business. It's built around the project—from finding, pursuing, winning, and delivering them.
In the last quarter of 2018, Full Sail Partners' consultants participated in early adopter testing of the Vantagepoint 2.0 solution. To say we are impressed with the new features and streamlined design and framework is an understatement.
In this article, three of our consultants share what sets Vantagepoint apart from Vision and why you should be excited. We will go into detail from Employee Scorecards and Project Plans to Multiple Dashboards and Milestone Dashparts.
While change can be scary, we assure that you will fall in love with the Vantagepoint enhancements we have seen so far, just like we did.
Intuitive Business Development
Lindsay Diven, CPSM is a Senior Consultant for Full Sail Partners. Below are just a few of my new favorite features of Vantagepoint.
All Companies in One Place – The previous Clients and Vendors has been combined to form a new hub called Companies.
All People in One Place – The previous Leads and Contacts info center has been combined to form a new hub called People.
Easily See All Associations for People and Companies – With streamlined hubs, you can easily see all the projects a company is associated with – either as a subconsultant or a prime.
Easier Searching – You can easily build searches on the fly. You can add a field quickly and instantly preview results.
Milestones Dashpart – A place to track and display all your CRM and proposal deadlines.
Visual Dashboards by Function – You can easily toggle between Business Development, Project Management and Executive/Owner level dashboards.
New Drag and Drop Proposal Builder – Long gone are the days of coding and testing merge templates! You can now see what your proposal looks like as you are building it.
Efficient Project and Resource Management
Below Principal Consultant, Matt McCauley, shares some of his favorite new aspects of Vantagepoint for creating and managing projects as well as managing resources.
Create a Project and Plan Simultaneously – When you create a new Project Record, a Project Plan is automatically created.
Add Multiple Resources to a Project at One Time – Quickly add multiple resources to a project with a few clicks.
View Resource Management by Employee or by Project – Gain greater visibility into resource utilization.
Streamlined Accounting Functions
We sat down with Scott Gailhouse, Principal Consultant, to ask what his favorite new features of Vantagepoint are. He listed the following:
All Reports in One Place – Get the information you need to make actionable decisions easily and quickly.
Best of Both Worlds: Batch or Single Entry – Save time with easy functionality that allows for processing multiple transactions with a click of a button.
Expanded Approval Center – New Approval center includes absence requests, expense lines, expense reports, timesheets and timesheet lines. You can also view the progress of the approval workflow.
Update Fees in Interactive Billing – Update project fees while processing invoices.
Employee Cards and Timesheet Calendar – New Outlook integration that allows for timesheets to be updated from a user's Outlook calendar.
Learn More about Deltek Vantagepoint
To learn more about these new features and see examples, make sure to watch our webinar Things We Love About Deltek Vantagepoint So Far. This is the first in a series of webinars on how to prepare for Vantagepoint.