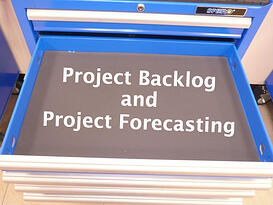 Project Backlog and Project Forecasting are two of the major components that predict current and future profitability of a firm. As firms begin to put together financial budgets for future years they are often looking at these two in conjunction between project backlog and project forecasting. Typically there are two different processes for forecasting future revenue:
Project Managers forecast work-under-contract, as part of backlog.

This contracted work not performed is the most accurate indicator of short-term revenue. Additionally a firm's backlog (the difference between contracted work and the work completed to date) reflects past marketing success and current project managers' ability to balance resources against project workload. How successful a firm is in managing this backlog often determines whether profits are either realized or squandered.

The Marketing group forecasts less-probable opportunities as part of our Project Forecast. Unlike the project backlog, the Project Forecasting discounts project opportunities to reflect uncertainty the project will be put under contract. When reviewed together, these two provide a very good picture of future revenues and upcoming workload.
Benefits of Project Backlog and Project Forecasting
A solid Project Backlog and Project Forecasting process helps manage this balance in the following ways:
Provides project managers tools for resource planning, scheduling, and deliverable management.
Provides a solid basis for marketing decisions. If your backlog forecast is lower than anticipated then increase your marketing campaigns engine. If your backlog forecast is higher than anticipated then add resources or become more selective about your marketing campaigns.
Provides validation of firms' revenue projections to confirm the accuracy of your corporate financial planning efforts.
The project backlog and project forecasting process need not be complicated; it needs only to provide a standard tool for company-wide project planning and review. Use the following three steps to initiate a project backlog and project forecasting process.
1. Prepare a weekly 'bottom-up' forecast by project manager.
Each project manager compile a project backlog forecast that identifies active projects under backlog and opportunity forecast that exceed say a 60% probability.
Assign team member resources, and then resource loads (using an hours forecast) each project for the next six-to-eight weeks.
There are several benefits of these project manager forecasts which include:
Provides the project manager an opportunity to balance resources, identify gaps in workload, and plan for downtime (i.e. vacation, holiday, training, etc.).
Provides structure for reviewing project milestones, progress, and budgets.
Provides revenue forecast by pairing the forecasted hours with billing rates.
2. Management aggregate review
Once weekly project backlog forecasts are completed, management then can compile and review these aggregated forecasts. This step often provides insight into the following areas:
Possibilities of resource sharing between teams or service areas.
Provides glimpse at future revenue projections
Identify potential budget problems.
Comparison of projected backlog revenues against corporate revenue goals.
3. Comparison to actual utilization.
Finally, we review weekly utilization from timesheets to ensure that forecasting matches reality. These reviews provide a critical feedback loop to improve your project forecasting process.
By following a sound process of project backlog and project forecasting tracking your firm can increase project management effectiveness, make better decisions about marketing expenditures, and improve and validate your corporate revenue planning efforts. These benefits will drastically improve profitability.