Managing and delivering successful projects is the goal of every architecture and engineering (AE) firm. For most, it's nearly a repeatable process that requires some minor adjustments to the work breakdown structure to meet the unique needs of a project's scope. Year after year, AE firms continued with this same process while making improvements based on lessons learned. Then all of a sudden, everything in our world was altered, including the way AE firms manage and deliver successful projects.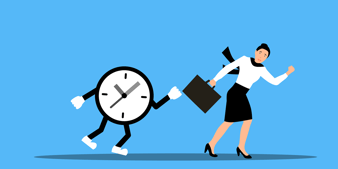 However, it's not all gloom and doom. There's actually good news to report! According to the 42nd Deltek AE Clarity Report, firms of all sizes dealt with the uncertainty and unexpected changes very well.
Clarity on Project Management Success
Overall, the majority of firms that responded to the Deltek AE Clarity Survey indicated that their projects stayed on schedule with some being ahead. This is great to hear, and there is more. Most of the respondents also indicated that projects remained on or under budget in 2020. This is a consistent result year after year in the AE Clarity Study findings. As 2020 was filled with uncertainty with no clear end in sight, staying on or under budget is an amazing accomplishment. Kudos to those firms!
Clarity on Challenges for Project Managers
Interesting enough, it is hard to link the effects of the pandemic to the findings in the Deltek AE Clarity Study. Overall, project status visibility issues continue to be reported as a common challenge for project managers over the past few years. Furthermore, visibility into project cost variance remains a top reason for not being able to identify project overruns before it is too late.
Highlighting other challenges AE firms experienced in 2020, tracking project KPIs continues to hinder project managers and jeopardize the successful outcome of projects. This is followed by schedule variance visibility, which only had a small upward change from previous AE Clarity Study findings. In summary, project visibility issues remain problematic but can be easily resolved by using a project management software built specifically for AE firms.
Clarity on Client Satisfaction
Mentioned, but less of a focus for project managers, is visibility into client satisfaction throughout the project life cycle. In the survey, only 40% of firms stated that they measured and tracked client satisfaction. What makes this troubling is that it is a fact that the client experience (CX) and client satisfaction has a direct impact on the ability to win future work.
For many firms, this is an unaddressed problem because they have neither a formalized CX initiative nor a solution to help track client satisfaction. This is likely because these firms are unaware that there are resources to improve their CX. Full Sail Partners is an active partner with Client Savvy, the creators of the Client Feedback Tool and the CXPS Community and can help firms to acquire these needed CX resources.
Clarity on Future Project Management Initiatives
AE firms historically have embraced a business model that forces project managers to wear multiple hats at the firm. However, this seems to be changing with more firms stating they want to:
Clearly define responsibilities for project management, business development and design work.
Invest in internal project manager training.
Develop internal project management best practices.
Surprisingly, all respondents to the AE Clarity Study indicated one of these as a top priority at their firm. Further down on the list of the top initiatives for AE firms is the need to hire more qualified talent. Noted in the Human Capital Management section of the AE Clarity Study, firms stated that the availability of good talent is a top acquisition challenge.
AE Clarity on the Future of Project Management
AE firms looking for future success have recognized the need to pay more attention to the discipline of project management. Moving forward, project managers need to focus on delivering successful projects. Firm leaders need to find others to share or take on the work of business development and let designers focus on creating. In other words, firms need to give the discipline of project management the respect and attention it deserves.
The Light at the End of the Tunnel
With all the uncertainty of 2020, AE firms remained resilient when faced with adversity. This says a lot about an industry that is directly affected by economic ups and downs. Overcoming what could have been an industry crippling situation, firms adapted, and project managers stepped up to continue to deliver great projects.
The Deltek AE Clarity Report is an insightful study that firm leaders should review each year. Additionally, firm leaders should use the available scorecard to benchmark their firm's results with the rest of the industry. Get a free copy of the Study and the scorecard using the button link below.