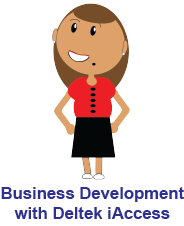 Now that I have your attention, I must admit I totally hijacked that title from my good friend and fellow Full Sailor Rana Blair. In January, she presented a webinar on using Deltek Vision's iAccess features to enhance the project management function of your firm. It was such a big hit, that we decided to continue the conversation in February. We'll shift the focus to iAccess' capabilities for enhancing client/contact management, tracking your pipeline of new work, and preparing for Vision's future.
I'm convinced Rana was right. We're at a point where there truly are NO MORE EXCUSES. Now is the time for all good client-facing associates in professional services firms to have immediate access to critical client information. If you don't, no big deal, your competition will figure it out for you.
Commit to Using Deltek Vision as Your Corporate Contact Manager
It still boggles my mind how many Deltek Vision users don't do this, sometimes even with the CRM module in place. One of my favorite parts of the module is the remote access to Vision CRM through iAccess. You can roll out access to critical client and contact information to anyone with a license and a data connection. While we typically refer to the CRM module as more of a marketing and BD toolset, contact information is used across the entire firm.
While iAccess screens possess many of the same fields and functions as the traditional "smart client" for Vision, you can easily arrange for custom tabs and fields to appear as well. None of this works, of course, unless you've done a decent job at migrating existing critical data and launched a good process for capturing additional information as it comes into your firm.
Gain Clear Insight into the Next 6 to 12 Months of New Work
Pipelines do not have to be complicated, but at a minimum, they should allow your firm to pull from existing client information and maintain a weighted list of future revenue estimates. The basic information required to do this (client, name of pursuit, estimated revenue, start date, and finish date) is typically best-known by the individuals closest to the client. iAccess can assist you by minimizing the distance between those individuals and the fields where you house the information.
If you're already well-versed at managing Opportunities in Vision, consider iAccess as a tool in your bag to help key rainmakers maintain and update information they typically receive first. Dictating updated information about an opportunity directly into a Vision record using your iPad isn't all that far-fetched anymore. It can also be used for basic reporting to help the same people avoid stepping on each other's toes with large clients. Distributed pipeline information in iAccess, built on Vision's core foundation of clients and contacts, could give your business development team a great boost.
The Future of Deltek Vision Looks Like iAccess
If you've not heard of Deltek for Professional Services (DPS), the "reimagined" next iteration of the Vision platform, now's the time to start thinking about when and how your transition will take place. While thinking ahead with your software vendor's developing capabilities in mind is always a good idea, this transition is particularly important for Vision users. Many key characteristics of DPS are already present in Vision's iAccess screens. With iAccess in Vision 7.6, you can start getting users comfortable with the browser-neutral and device-agnostic features that will eventually be pervasive throughout the DPS platform.
Not Quite Convinced Yet About iAccess?
Feeling a little uncomfortable with all this new stuff in the Deltek environment? Join me for some more discussion on iAccess and we'll do our best to help you get there. We believe taking advantage of these capabilities will help you get the most value from your system and allow you to enhance your clients' experiences with your firm!