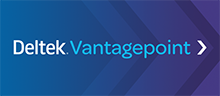 Deltek strives to continually improve its products to ensure clients are best able to utilize the software. To make it easier for you and your employees to take full advantage of Deltek Vantagepoint, changes have been made to the accounting, screen designer, billing, security, and project lifecycle features. These features are now effortless to use so let's take a look at some and see how they help with efficiency.
Accounting and Billing
Improvements have been made to reduce error in the accounting and billing processes. The changes include features such as retaining last sessions information, a maximize button giving you more information, adding columns to transaction tabs, and much more. You no longer must select the modify tool to edit timesheet comments, and an all new Fees Tab works with billing phase grid. The transaction center also got an update allowing the transaction entry process to go smoother with billing. The settings that come along with accounting and billing have also been organized in a more logical way making it easier to navigate the system.
Security
Security is a big deal when it comes to client business information. Making sure that Deltek Vantagepoint provides maximum safety for data and information is a major concern so the security browser and module has been enhanced. Enhancements include role security in the browser, additive security model, fields secured on server for protection, and more navigation menu access rights. With the update, there are extra steps you can take to guarantee safety such as deleting security roles that are no longer being used. For more tips on how to maximize Deltek Vantagepoint check out this webinar.
Project Lifecycle
Project lifecycle is something you always want to monitor, and there are many benefits that Deltek Vantagepoint offers to create seamless transitions from different projects. This includes entire project lifecycle reporting, structural opportunities, and one record to track the entire project lifecycle. Similar to security, there are certain steps you can take to optimize opportunity convergence. You can now link any opportunities and project records that represent the same project making sure that each project is only linked to one opportunity. For more information check out this webinar.
CRM and Proposals
Customer Relationship Management (CRM) helps sales staff stay organized. Recently, clients and vendors have been combined into the Firm hub which allows you to track activities, contacts, address changes, etc. all in one place. The qualified statuses of contacts can also be checked to see progress and figure out what needs to be done to create a new customer. Additionally, Vantagepoint has a new drag and drop proposal builder. You can actually see what your proposal looks like as you build it. To see more that Deltek Vantagepoint can do with CRM and proposals check out this webinar.
Preparing for Deltek Vantagepoint
This new solution is based on Vision with reimagined features and capabilities that can help you streamline your business processes. When you are you ready to get started, we are here to help! For further details about what Deltek Vantagepoint has to offer, click on the on the link below to access our entire webinar series about Vantagepoint.