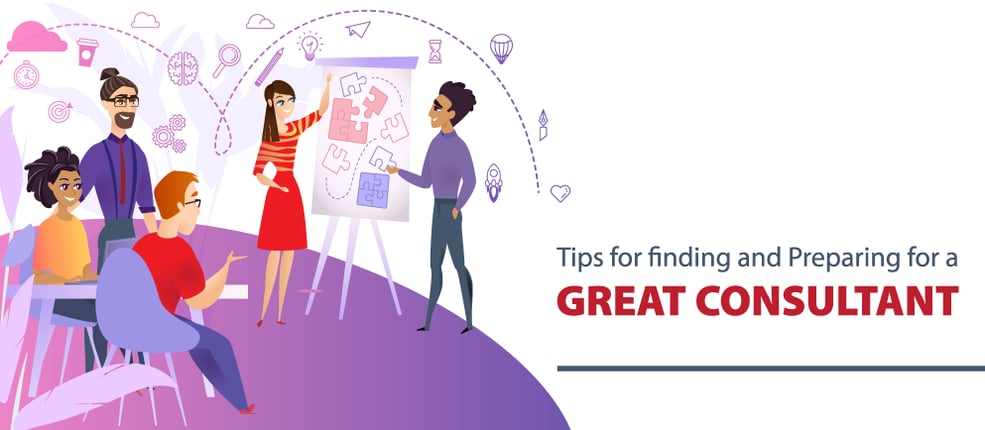 In the world of Deltek, leveraging a consultant is a common practice. For many firms it makes perfect sense to rely on expertise from those that have been through it before…especially when we are talking about a heavy lift project like upgrading from Vision to Vantagepoint. Previously, I discussed the importance of following processes and preparation when it comes to business development in this blog. So, this time, I want to talk about some tips you can use to create a process which your firm can follow for selecting and preparing for a successful Deltek consulting engagement.
Just to set the stage for the discussion, as February is Black History Month, one of my favorite things to do is to teach my kids as much as I can about black historical figures and those that I'm certain are paving history right now. I learned about a Nigerian man named Aliko Dangote who is the wealthiest man in all of Africa. And obviously, with the similarities between us, I think I'm likely on the path to becoming a billionaire too.
We both like to work 12+ hour days and start at about 5am. He has been awarded "most powerful man in Africa" several times by Forbes, and I have often been revered as the "most powerful woman in my family," mainly by those I am bossing around. See how Aliko and I are almost twins? But really, recognizing a figure like Aliko is a great segue to discuss how to find and prepare for a great consulting relationship.
Find a Smarty Pants Consultant
Reflecting upon this story, a huge takeaway is that Aliko has been known to say that "he always hires people that are smarter than him." Yes, we might immediately infer that Deltek consultants are more knowledgeable than the typical System Administrator or CFO when it comes to the areas they specialize in. It makes sense that a person that works in their career for even as many as 5-10 firms using the same software still doesn't have the experience that someone who works with as many as 5-10 firms a day/week. Clearly exposure matters.
Build Your Internal Team
Interestingly, my boss, Sarah Gonnella, VP of Marketing and Sales for our firm, recently shared with me that she often looks for people that are different than her for her team. She believes that it's wise to leverage strengths, acknowledge weaknesses, and collaborate a lot. I imagine Aliko would agree with her. Often the people that I believe are smarter than me, are also different than me.
When you build an internal team for hiring a consultant for a complex project you should ensure:
You have the right business areas represented.

You all know each other's strengths and weaknesses.

Everyone involved is super smart.

There is trust.
Processes Everywhere
Ok, before you think I am getting carried away here, I don't mean that you should overthink everything and micromanage your team to death. Aliko hires smart people because humans are not robots, and it's not possible to systematize everything. The important processes to have involved are:
Feedback: Embrace honesty! Tell the consultant how he or she is doing, tell each other how it's going, look for gaps that allow for continuous improvement.

Needs assessment: What do we need? Does the consultant have a process for learning our needs?

Roadmaps: Where are we all headed? How will we know we are on the right track?

Testing: Testing without knowing what success looks like is fruitless, and yeah, go ahead and document the tests.

Check the Facts: Before you get sucked into black and white thinking, remember all the times that a solution was found in the gray. Find comfort when it feels overwhelming or stressful that sometimes the greatest things must trod through some discomfort along the way.



Flexibility Rules
The best teams can roll with the punches, and complex projects have a lot of unknowns. Don't hire a consultant that doesn't understand that. Technology should support business processes. Yes, tech has limitations. You need a consultant that can meet you where you need to be met, and he or she needs to be creative to solve problems. If you are interviewing a consultant, and he or she is too committed to a rigorous process that isn't somewhat fluid, be wary. I am pretty sure that Aliko would feel the same way about flexibility because it is smart.
Change Management
If your consultant and/or your internal team are not talking about managing the change involved in a complex project, that needs to be addressed right now. There isn't really any more to say about that. Great leaders like Aliko understand that this is vital to success. Change management is key; software is only as successful as its users are…it has to be used.
Celebrate, Document and Evaluate
In wrapping up this blog article, I am reminded of a few other key components to think about when your firm is involved with finding and preparing for a great consultant. Don't forget to celebrate, document future phases, and study the mistakes for next time. Lastly, always remember these wise words from Aliko Dangote: "In the journey to success, tenacity of purpose is supreme."