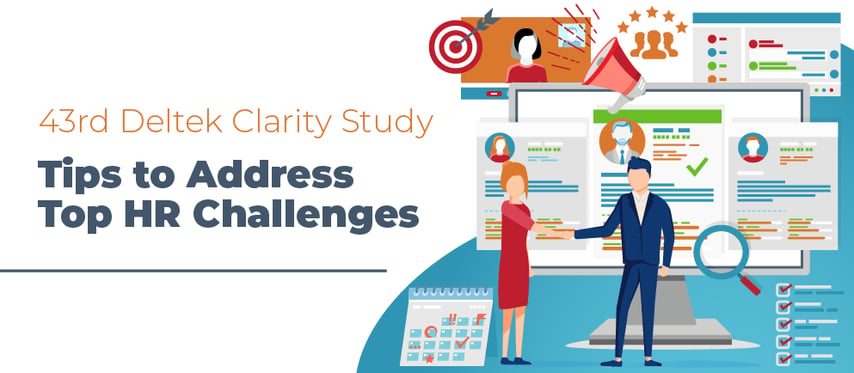 Finding, recruiting and retaining top talent affects nearly every part of architecture and engineering (A&E) firms, as evident in the 43rd Deltek Clarity Study. In a previous blog article, we dove into the specific human capital management (HCM) challenges. Today's focus will be on sharing tips that A&E firms can use to address those challenges.
Acquisition & Retention Connection
The number one initiative that respondents to the survey were considering taking was improving the opinion of their organization in the marketplace to attract better talent. Firms should be thinking about their brand as a sum total of all of their processes, actions and culture. It's not just a mission statement on a website. It's critical to start with the firm's brand and ensure it's authentic.
How well does the firm's brand display authenticity and empathy, as well as showcase modernization with firm processes and utilizing technology? Also, it's not enough to just focus on the brand. Firms have to additionally communicate the brand outwardly, and not just by the firm's employees, but by clients and customers who know other people in the marketplace.
Another tip is to review the firm's hiring process. Ensure everybody in the hiring process understands the experience the firm's trying to create and follows through on. Candidates will drop out of the process and/or won't accept positions because they weren't treated well throughout the process. The firm should create an experience specific to the acquisition process. Everyone involved in the firm's hiring process should understand the critical role that getting the offer accepted depends upon creating a great experience and following through on commitments. Every touchpoint with the candidate is a way to demonstrate the firm's culture.
Onboarding talent effectively is another tip to address HCM challenges. According to the Clarity study, it's taking around four months from when the job is posted to the new hire producing billable work. So, the better the firm is at its onboarding program not only will that new hire be quicker to bill work, but it's also a key time to keep that person's retention and engagement high. New hires are already excited about coming onboard, and if there's a lag in their training and they don't feel like they're having an impact on the business, their engagement level can drop quickly.
Acquisition and retention are connected. If the firm can create a good retention strategy, especially through branding, it will have less need for acquisition and thus fewer acquisition costs. This frees up more budgets to continue with retention and engagement programs which in turn helps increase retention.
Culture & Communication
One of the most important things to the modern workforce is relationships, specifically, relationship-focused employment experiences. So how do A&E firms get to that? Here are a few strategies:
Continuous Feedback Discussions

– The relationship between employee and manager is pivotal. Annual performance reviews can be expensive and not many people get a lot out of them. Firms should maybe at least supplement their annual review process with continuous feedback discussions. These are times when people can connect frequently and start to feel value.

Pulse Surveys

– Pulse surveys are a way to demonstrate an interest in employees' perspectives.

Authenticity & Empathy

– The modern workforce craves this, and this can be demonstrated through continuous feedback discussions and frequent interactions between employees, project teams, project managers and direct supervisors. People want to work for somebody they connect with, somebody they align with, and it's never been more important. From a modernized performance management perspective, firms should implement processes that allow for frequent connection and allow opportunities to display authenticity and convey empathy.

News & Information

– Employees desire company news and information and want to know how the firm is doing. They also want to know where they stand. In the absence of information, people create their own, and when they don't know how the firm is doing, they start to think that maybe things aren't going well. How can the firm create a great culture and engagement by just making sure it's transparent as possible? Furthermore, how can the firm make sure that information is shared frequently and consistently?
Modern Performance Management Tools
Three modern performance management tools include continuous feedback, continuous goal management and recognition. Below is a summary of each.
Continuous Feedback

– Good continuous feedback discussions are not just "check-ins" but are opportunities to drive goal discussions, career development discussions, and improve engagement and retention. They can also serve as an opportunity to recognize people in a one-on-one setting. They are very highly desired by the modern workforce and can replace or supplement the appraisal process.

Continuous Goal Management

– This approach removes the time box traditionally associated with annual goals which is not how people work. Instead, this approach focuses purely on the alignment of the employee and the firm, driving them both mutually forward.

Recognition

– This is key to engagement, retention and boosting productivity, morale and happiness. When employees are recognized for good work, it releases dopamine in their brains and creates feelings of pride and pleasure. This then tells the brain that if they do more things like this, they'll get more praise and recognition and feel this way again. As a result, the behavior starts to change, but be careful not to just recognize people haphazardly and constantly to a point where it's meaningless. So, think about what a formal recognition program can do for not only the firm but from a brain chemistry standpoint.
Learning & Development
The two top initiatives for managing talent from the study were "create/improve success and career development planning" and "create/improve employee engagement programs." Here are some tips to take action on learning and development.
Organizational Focus

– Learning and development has to be a firmwide focus with buy-in from executive leadership. Managers need to promote learning, and time has to be devoted to it.

Career Mobility

– Firm leaders have to allow for career mobility. Retaining a great employee, at least in some aspect of the firm, is better than losing them totally.

Development Plans

– There should be plans for all levels supporting onboarding, employee growth and gap fills.

Project Focused

– There should be project-focused learning and development. Many survey respondents said that PM training is key. Firms should invest in that project management training.
Upskill & Reskill

– This strategy supports career mobility, improves employee engagement and retention and improves productivity.

Watch this webinar

to learn more about how to deploy upskilling and reskilling at your firm.
Dig Deeper into the 43
rd
Annual Deltek Clarity Report
Hopefully, A&E firms will consider all of these useful tips to address their HCM challenges. To get more details on A&E firm HCM trends or other interesting findings, download the full Deltek A&E Clarity report. Click the image below to grab a free copy of the report along with a scorecard to chart the firm's results.