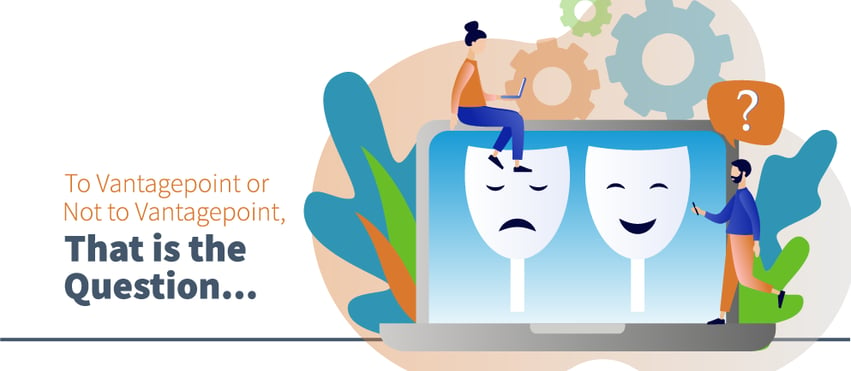 Project-based firms have many options when it comes to Enterprise Resource Planning (ERP) packages, albeit difficult choices to make. In his well-known play Hamlet, Shakespeare delivered us a Hamlet who was contemplating a major decision in his famous soliloquy. So, are the decisions around life and death that Hamlet considered at all comparable to that of choosing an ERP? Well, let's have some fun here with Shakespeare and try to make a case for it.
Avoid the Old Bait and Switch
In the Shakespeare play, Hamlet has all these murderous plans and ways to avenge the death of his father. The famous quote "the lady doth protest too much, methinks" isn't so much about how fickle women can be (even though everyone knows fickleness has no gender), but rather it's said as part of a trap to see if Claudius will reveal his guilt. What can be learned from these homicidal maniacs, other than to bring back the word 'methinks', one may ask?
When selecting an ERP, project-based firms must consider the entire cost of the product to avoid feeling trapped. No one likes to feel taken advantage of or stuck in a situation that isn't meeting expectations. When clients come from other ERPs on the market, one of the main complaints is typically that they felt like their ERP provider or consultants were constantly after more fees. They were sold a product that could do a ton, but the investment necessary to get to all those great features was hidden. The result is feeling like a bait and switch has trapped the firm into pouring more into a system which was thought to be ready for full operation.
Deltek Vantagepoint is sold as a highly configurable project-based ERP system. Full Sail Partners' expert Vantagepoint consultants approach sales and implementations with eyes that are wide open to balance cost with efficiencies. Vantagepoint works best when it meets each firm's business needs, and it does take configuration and therefore an investment, to get there, but it's well worth it. So, if project-based firms have the right expectations going in, they shouldn't be feeling trapped.
Wrap Some CRM/RP Rigor Around the Madness
Some of the most significant and best changes from Deltek Vision to Vantagepoint are happening in the Customer Relationship Management (CRM) and Resource Planning Management (RP) modules. These are complete game changers in the market and none of the competition invested as much as Deltek has into fine-tuning these glorious pieces of functionalities. Deltek has been listening to client feedback for more than a decade and continues to listen as they expand Vantagepoint's capabilities.
So going back to the play, Polonius responds to Hamlet at one point by saying "Though this be madness, yet there is method in 't." Running a professional services or consulting firm can feel insane some days. Clients can pop up out of nowhere with additional needs, and suddenly, the entire day's schedule has been turned into something else. Deltek Vantagepoint helps wrap some rigor around the "madness" in a user-friendly way that will actually increase user adoption in project-based firms.
Keeping the madness at bay, Full Sail Partners has now helped more than 200 firms go from Deltek Vision to Deltek Vantagepoint. The number one reason why system usage increases with Vantagepoint is because of its ability to manage the entire project lifecycle, from a prospect that knows nothing of what it's like to work with the firm to managing the resources and how the work is delivered. Vantagepoint also offers the type of visibility into finances, operations and performance that firms need to grow. The number two reason usage increases with Vantagepoint is because the CRM makes life easier for marketers, seller-doers, project managers, and leadership. Opportunities are no longer separate files from projects, so it's all one record in Vantagepoint.
Additionally, with the Deltek Vantagepoint Outlook Connect and Gmail for business connect, users can see the interaction history between contacts, clients, and projects as well as quickly log emails into Vantagepoint. This feature allows users to bring Vantagepoint into their email inboxes. And this tool comes with other features like the ability to synchronize calendars and schedule meetings while saving them in Vantagepoint at the same time. To learn more about the Vantagepoint Outlook Connect, check out this mini demo.
Keep that New ERP Feeling Longer
To put it lightly, in the play, Hamlet was worried about the "afterlife" in that other famous soliloquy when he said, "to die, to sleep – to sleep, perchance to dream." This is similar to how many of our clients are worried about their "aftercare," with continuously improving their processes with Vantagepoint once they've made the leap to get there. A Full Sail Partners' service becoming more popular with clients recently is the Navigational Analysis for Vantagepoint. A firm's entire system is scanned, and current processes are evaluated to discover how well they are serving the firm. It's like an annual physical exam by a physician that results in a complete work-up on the health of your system.
It's important to develop a plan for aftercare that includes regular data clean-up, optimizing processes, increasing efficiencies and overall continuous improvement. A consultant isn't necessary to keep a firm's ERP fresh; it's like anything else. If experts are needed to bring their knowledge and best practices to the table, it can be outsourced, or a firm can do it itself.
Exit Stage Right
In review, it is certainly interesting to see how much Shakespeare's characters in Hamlet seem to have reflected upon similar issues like with the tribulations of project-based firms regarding choosing an ERP. So perhaps they are comparable? However, the answer to Vantagepoint or Not to Vantagepoint appears to be evident. To Vantagepoint!
---
Click the image below to learn how to add the powerful, feature-rich ERP to your toolbox and get your team working on the same page of the same book.