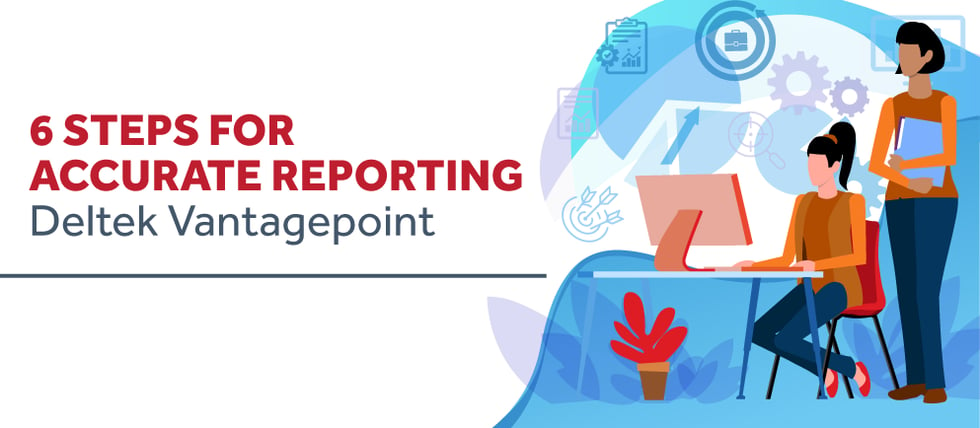 As a "Power User" or Deltek Vantagepoint System Administrator, you will often get requests from users for information from the system. Project Managers may need revenue totals, labor spent compared to budgets, or planned versus actual data. Executives may want to understand key performance indicators (KPIs) such as utilization, and revenue compared to budget or cash balances.
Each user has a variety of needs, and as a Power User, it is your job to interpret their requests and provide the users with the best report in the ideal format to assist them in making business decisions. This article will walk you through the 6 steps you should take to create an accurate report and reduce the need for multiple report iterations. Use these steps next time a user asks for a report!
1. Understand the Question(s) the Report is Supposed to Answer
When someone thinks they need some sort of data, often they just ask for the data itself like "Can you get me a project detail report for XYZ Project?" However, you don't know what they want to use it for, or what question they are trying to answer by using the report, the report they are asking for may be the wrong solution for their actual need. They will then come back and ask for another report until they get the data, so they really need to answer their question(s) or solve their problem.
If you get a generic request for a report, first stop and ask what they are looking to use it for. Ask questions like:
What is the issue you are trying to solve with the report?

What data point(s) are you looking for – actuals, budgets, contract/compensation, revenue, profit, etc.?

Do you need transactional details vs. just summary totals? What timeframe are you looking for (current month, YTD, JTD)?

Which projects/records do they need?

What output do you want it in?
Is this data you need on a regular basis, and if so, at what interval? Based on this question, maybe they need a scheduled report or even a Dashpart instead.
All these questions will help you give the user the data they are looking for, and hopefully eliminate revisions needed if you hadn't asked the questions upfront.
2. Decide on Deltek Vantagepoint Standard Report Base to Utilize
Based on the questions asked, you will then need to decide what Vantagepoint Standard Report to utilize as the base of the report. Here is an example of how to go through some of the questions:
Question: Tell me a little about what you are trying to use this report for. What question or issue is it to help you answer? Answer: I have a project that isn't performing as well as I thought it should; the profit margin is low. I'm trying to figure out what phase of the project is going "south."
Question: OK, what specific data points are you looking for? Answer: Project Actuals compared to Compensation and Budget by phase. If you don't know if their budget is from the plan or project budget worksheet, you would need to verify this data point.
Question: Do you need transactional detail or summary totals? Answer: Summary totals will work. OK, I'm now leaning toward the Project Earnings or Project Progress report, not a Project Detail report.
Question: What timeframe(s) do you need the data for? Answer: JTD will work.
Question: Since you said you need to compare to your budget; do you want to see the overall budget amount or ETC and EAC? Answer: Good question; I'd like to see JTD, ETC, and EAC.
As you can see, you start building the report as the questions get clarified. In fact, their initial request for a Project Detail report may have been entirely inaccurate for what they truly need this report for.
3. Select the Records Needed
In the example I have been using, the user was asking about one project. However, often you need to verify which records you need. After you have clarified that, I recommend selecting your records first. This recommendation is for two reasons: (1) record selection is at the top of the screen, so why not fill it in first? and (2) when I am done selecting my options, I want to run the report right away. If I don't select the records first, I may accidentally run the report for ALL records…YIKES, No thanks!
4. Review the Options Needed
With Deltek Vantagepoint, the reporting options menu is now consolidated to two tabs – Columns & Groups and Options. On occasion, you may want a chart or to change the layout but for the most part, these first two tabs are all you need. Since the options are condensed, the best practice is to start at the top and hit all of them. This way you won't miss something like selecting final totals, the correct budget option, or if you needed to uncheck the "activity" option.
5. Preview for Accuracy
ALWAYS! Prior to giving a user a report, even if it is a report that you have used many times, always preview the report first. Missing one little box, like not unchecking the activity box, will result in a blank report. Preview the report. Make sure it answers the question in the first step. Are all the data points needed represented? Are the records correct?
6. Confirm the Output
The most popular type of output for a report is a PDF or physical printout. However, there are many other options available. Deltek Vantagepoint can export reports to Excel, Word, and even PowerPoint. Additionally, now that Vantagepoint has dynamic dashparts, many firms are finding that when a user is asking for a report, they may find it useful to create a dashpart to have on-demand access to this information quickly and easily.
Once you are satisfied with the report, contact the user with output options and confirm the best output. Sometimes after you present the draft report to the user, you may find that this is a report that should be scheduled out on a regular basis or shared with a group of individuals' favorite report list. Or maybe a dashpart would be useful to access the information on a regular "on demand" basis?
You may also want to ask questions like "Is this information something you would like on your projects weekly, monthly, on-demand?" or "Is this information something you feel other managers also could use on a regular basis?"
Accurate Reporting With Deltek Vantagepoint Allows for More Efficient Decision-Making
In conclusion, accurate reporting is essential for making informed business decisions in Deltek Vantagepoint. As a Power User or System Administrator, it is crucial to understand the user's needs and interpret their requests to provide them with the best report in the ideal format. By following the six steps outlined in this article, you can create accurate reports that answer the user's questions, reduce the need for multiple report iterations, and eliminate the possibility of errors. Always preview the report before sharing it with the user and confirm the output options that suit their needs. Accurate reporting in Deltek Vantagepoint is vital to help your organization make informed decisions and improve overall business efficiency.