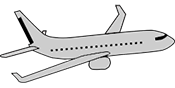 So many people have suggested that I write a book about my travel experiences. After all, I average about 125,000 domestic miles each year and truly believe that, if I decorated my home with cheap hotel art and bolted down my television, my "layover" in Bakersfield, CA would be quite comfortable. Not to mention the miles and miles of test driving countless models of white cars you see in most hotel parking lots. Seriously though, I do love my job, and because it does require me to travel a lot, I have learned much and will now pass some tips on to you.
Complaining Gets You Nowhere
I always try to remember to say "please" and "thank you" while mostly keeping my composure when the inevitable stressful situation arises. Gate agents, flight attendants and front desk clerks are simply messengers often delivering news that no one wants to hear. As a result, I make an effort to:
Collect a business card of a manager to let him know how wonderful his team was and how well they handled even the most frustrating of situations
Send a note to corporate acknowledging the people that delivered great customer service
These gestures usually ensure even better real-time service. In addition, knowing the management team at the properties you frequent establishes a good rapport and allows for them to proactively prepare for your next arrival being already aware of your preferences.
Indirect Routes May Be More Direct
I always consider different airports and frequently know the routes better than the airline representatives. Selecting an alternate airport can often be both cost and time saving provided you don't mind a road trip. Also, choosing to drive between two clients within 250-300 miles is a good option which gives you the opportunity to stop and see new places.
If you find yourself with an early flight on your return trip home, staying at an airport hotel is not only convenient but can be a cost savings. You can go ahead and turn in your rental car early and use a complimentary hotel shuttle. Most rental car companies will also drive you to your hotel if you just ask.
Make Sure to Get Reimbursed for Expenses
I have used many different expense report tools over the years beginning with the failsafe Excel and remember the days of sending my receipts via FedEx. Fortunately, I now use Concur Expense which is integrated into the Full Sail Partners' Vision database using the Blackbox Connector. Concur makes filing expenses easy and streamlined. Using only my smart phone, I can take a picture, upload to Concur and complete my line item in seconds.
Enjoy Your Travels!
I hope that these tips will make your business travel a pleasure. I do strongly suggest you monitor your rewards programs to ensure you always receive what is due. Got to go, doors are closing, and it's time for me to fly.