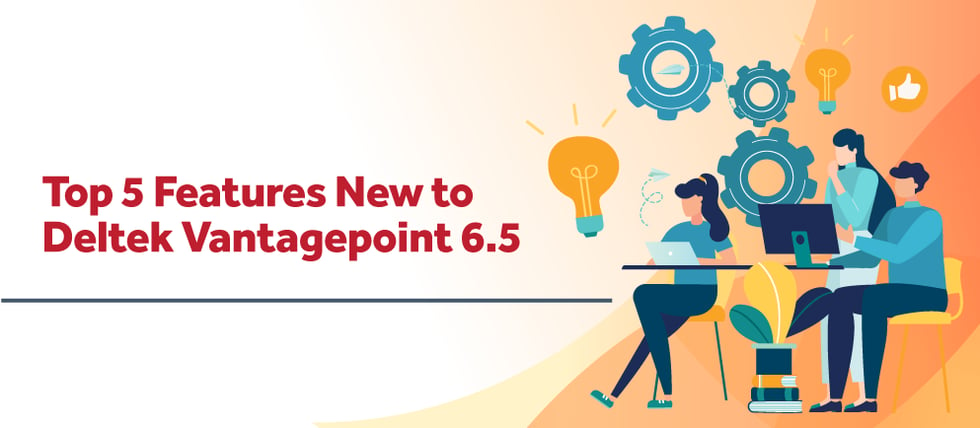 Deltek Vantagepoint announces an exciting new update, offering a wealth of tools and features to continue to increase collaboration and productivity for project-based firms. Vantagepoint 6.5 includes a substantial release filled with enhancements across multiple modules that benefits different user groups. In this article, I'll be covering the top 5 features that I think will have the biggest impact in the daily usage. Without further ado, let's jump right in! 
1. Accounts Payable (AP) Invoice Approvals Enhancements
This update brings significant time-saving enhancements to AP Invoice Approvals, including improvements to Intelligent Character Recognition (ICR), the introduction of a new field, and more. 
Intelligent Character Recognition (ICR):

One of the standout features of this update is the integration of ICR for AP Invoice Approvals. With ICR, Vantagepoint can read details from uploaded AP Invoice files and automatically populate several key fields in the AP Invoice Approval form. These fields include Vendor, Address, Invoice, Invoice Date, Invoice Amount, and even Currency if you work with multiple currencies.  

Streamlined AP Invoice File Uploads:

When you upload an AP Invoice file, the system provides a preview pane on the right side of the AP Invoice Approvals form, displaying the uploaded document. While this update may seem small, it's incredibly helpful when managing multiple files within the same AP Invoice.  

Invoice Amount Field:

ICR automatically populates the Invoice Amount field on the AP Invoice Approvals form with the total amount from the uploaded file. This field is now always editable, ensuring that the value matches the total amount in the Project Information grid. If there's a discrepancy, the system will display a warning message upon submission. 

Adjustable Right Pane:

In the Transaction Center, when viewing the AP Invoice Approvals form in Detail View, you can now display a PDF of the AP invoice in a preview pane on the right side. This convenient feature allows you to simultaneously review the invoice while making edits to the invoice and project information. 
2. Smoother Vantagepoint Connections with API Enhancements 
Deltek Vantagepoint 6.5 introduces an array of powerful API enhancements to streamline your workflow. With new AP Invoice Approval API Endpoints, Third-Party Integrations API Endpoints, and the PUT Post Timesheet Entry API Endpoint, integrating with Vantagepoint has never been smoother. 
AP Invoice Approval API Endpoints:

For those integrating with Vantagepoint, new API endpoints for AP invoice approvals are now available. These endpoints adhere to existing validations, restrictions, and security requirements at the application level, ensuring seamless integration. 

Third-Party Integrations API Endpoints:

Another API-related enhancement is the introduction of Third-Party Integrations API endpoints. Just like the AP Invoice Approval endpoints, these follow established validation, restriction, and security protocols. 

PUT Post Timesheet Entry API Endpoint:

To simplify timesheet management, the new PUT Post Timesheet Entry API endpoint allows you to post timesheets for individual employees or multiple employees at once. This API endpoint respects existing validations, restrictions, and security measures. 
3. Long-Awaited Dashparts Types  
The latest additions to Vantagepoint Dashparts offer customized metric presentations, extended role-based security, and improved functionality, streamlining operations for efficient data access and evaluation. 
Key Performance Indicator (KPI) Dashpart Type:

With this new dashpart type, you can highlight crucial metrics for better data evaluation. Other customization features include changing the background and text colors, turning on/off sorting, selecting the date ranges, adding calculations, adding filters, and more. Even more, you can use the conditional formatting that will dynamically change the tile color when comparing KPI values to static values. 

Firm Dashpart Base:

This new dashpart base displays firm-related information from the Firms hub, including vendors, clients, competitors, or government agencies. This enables quick access to relevant firm data directly from your dashboard. 

Role-Based Security for More Dashpart Bases:

Role-based security settings, previously available for Employee dashparts, are now extended to several other dashpart bases, including AR Detail, Project, Project Detail, and Firm. This enhances data security and access control within your organization. 

Timesheet Floor Check System Dashpart:

This new dashpart empowers you to perform employee timesheet floor checks directly from your dashboard. This feature replicates all actions available in the Floor Check dialog box in the Timesheets module, such as sending reminders, opening or printing timesheets, and checking timesheets from different periods. 

Dashpart Calculations:

You can now create dashpart calculations based on selected columns in the current dashpart. These calculations respect filters and date ranges applied to the columns, allowing for more precise data analysis. Dashpart calculations are different from calculated fields, which are formulated from all available fields of a dashpart base. 

New Columns for the Project Detail Dashpart Base:

Additional columns have been added to the Project Detail dashpart base to enhance cash flow visibility for clients using Paid when Paid (PWP) payment terms. These columns provide insights into invoice status, discounts taken, payment dates, and more. 

Update to the AR Comment Column:

Users can now add or edit AR comments directly from drill-to dashparts with the AR Detail dashpart base, simplifying AR management. 
4. Improved Labor Resource Assignments and Unit Planning 
Deltek Vantagepoint 6.5 brings notable enhancements to the Planning module, aimed at improving the management of labor resources and unit planning within your projects. 
Fill Labor Resource Assignments with Planned Hours:

On the Labor tab of the Plan form, a new feature called "Fill Hours Per Day" empowers you to assign planned hours to workdays for labor resources based on specific criteria. You can choose to allocate hours based on a set number of hours per workday or a percentage of the employee's hours per day. This streamlines the process of planning labor resources and ensures more accurate assignments. 

Unit Planning Enhancements:

Unit Planning has also received improvements, allowing you to view planned, actual, and baseline unit data more effectively. This includes the ability to display sub-rows for unit quantities, cost, billing amounts, and allocation in each calendar period of your project plan. Additionally, you can now specify unit planning data export settings based on the desired timescale, whether by day, week, or month. 

Plan Expenses and Consultants in Calendar Periods:

For companies using the Resource Planning module and planning expenses and consultants, Vantagepoint 6.5 introduces the ability to plan expense and consultant amounts in calendar periods within the Plan module. This feature enhances the granularity of your planning capabilities. System administrators can configure these options in Settings, and individuals can modify them for specific plans if they have the appropriate access rights. 

Show the Critical Path on the Gantt Chart:

When it comes to project scheduling, understanding the critical path is crucial for project managers. In Deltek Vantagepoint 6.5, you can now visualize the critical path of your project directly on the Gantt chart within the Schedule tab of the Plan form. The critical path represents the sequence of tasks or phases that cannot be delayed without affecting the project's completion date. By toggling on the "Show Critical Path" option above the schedule grid, tasks or phases on the critical path are highlighted in red, making it easier to identify and manage them.
5. New Workflow Functionality
The workflow functionality in Deltek Vantagepoint has been enhanced with two significant features: 
After Completion Workflow Type:

Vantagepoint 6.5 introduces the "After Completion" workflow type for Application workflows. This workflow type allows you to define additional actions that should occur on a transaction after it has been successfully posted to the database. This feature enhances automation and customization capabilities within your workflows, enabling post-processing actions tailored to your organization's needs. 

Support for Alternate Approvers:

In the Approval workflows, a new set of options has been introduced to support alternate approvers. These options include "Do Not Allow Employees to Approve More than Once," which prevents an assigned approver from approving a record more than once, and "Do Not Allow Employees to Approve Records They Have Created," which prevents approvers from approving records they themselves created. These options enhance workflow management, impartiality, and control in the approval process. 
Enhancements Abound with Deltek Vantagepoint 6.5
Deltek Vantagepoint 6.5 introduces a wide range of enhancements and features designed to streamline operations, enhance security, and improve functionality across various modules. These updates empower organizations to make more informed decisions, increase efficiency, and maintain data accuracy in their day-to-day operations. With these improvements, Vantagepoint continues to evolve as a powerful and versatile solution for project-based businesses. To see these improvements and more, make sure to watch our "What's New in Vantagepoint 6.5 Webinar" by clicking the image below.