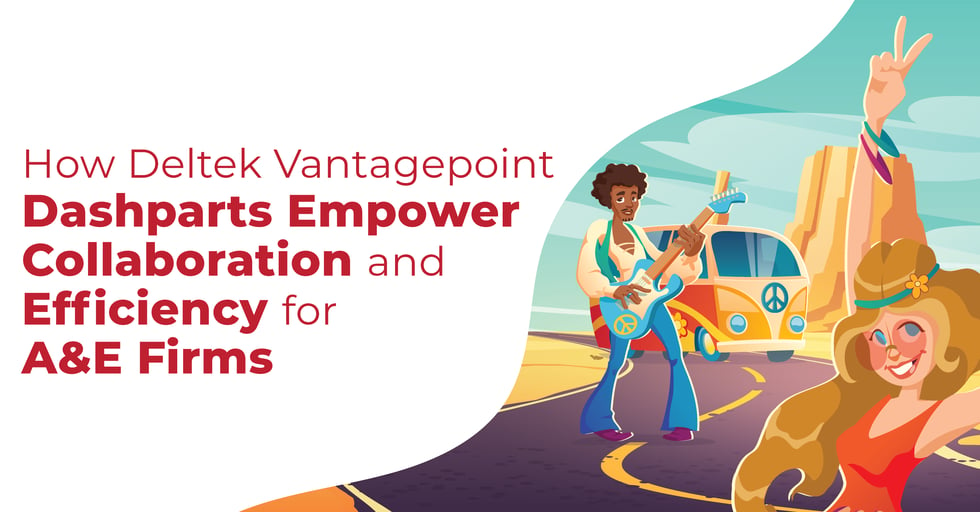 This summer, we hosted Dashboard-Palooza, a virtual mini-demo series that highlighted the enhanced dashboard functionality of Deltek Vantagepoint. These demonstrations showcased how these powerful dashboards can revolutionize collaboration and efficiency for A&E firms. Our experts took center stage and provided actionable insights to project managers, finance and project accounting teams, as well as sales and marketing professionals, helping them drive their success. Let's recap the highlights from each mini demo.
Project Management Oversight in Deltek Vantagepoint Dashboards
Traditionally, project performance is measured monthly after time and billing has been processed. This leaves a gap in time where many issues could have been detected and addressed. What's more, is that users must read every line in a report to understand what is important.
In our opening act, Rana Blair, our rockstar expert, demonstrated how Deltek Vantagepoint's Project Management Oversight Dashboards can empower project managers to gain valuable insights and streamline their workflows. These dashboards offer visibility into key metrics such as budget, schedule, and resource allocation, enabling proactive steps to keep projects on track. Rana showcased her favorite dashboards and dashparts as summarized below.
My Team's Project Overview Dashboard
Project team leaders, principals, and directors can gain quick insight into their team's performance even when they are busy with other competing priorities like business development, management meetings, issues to respond to, and several projects to monitor performance for. This dashboard makes it easy to see project performance for their team. It's designed to identify when something is out of tune.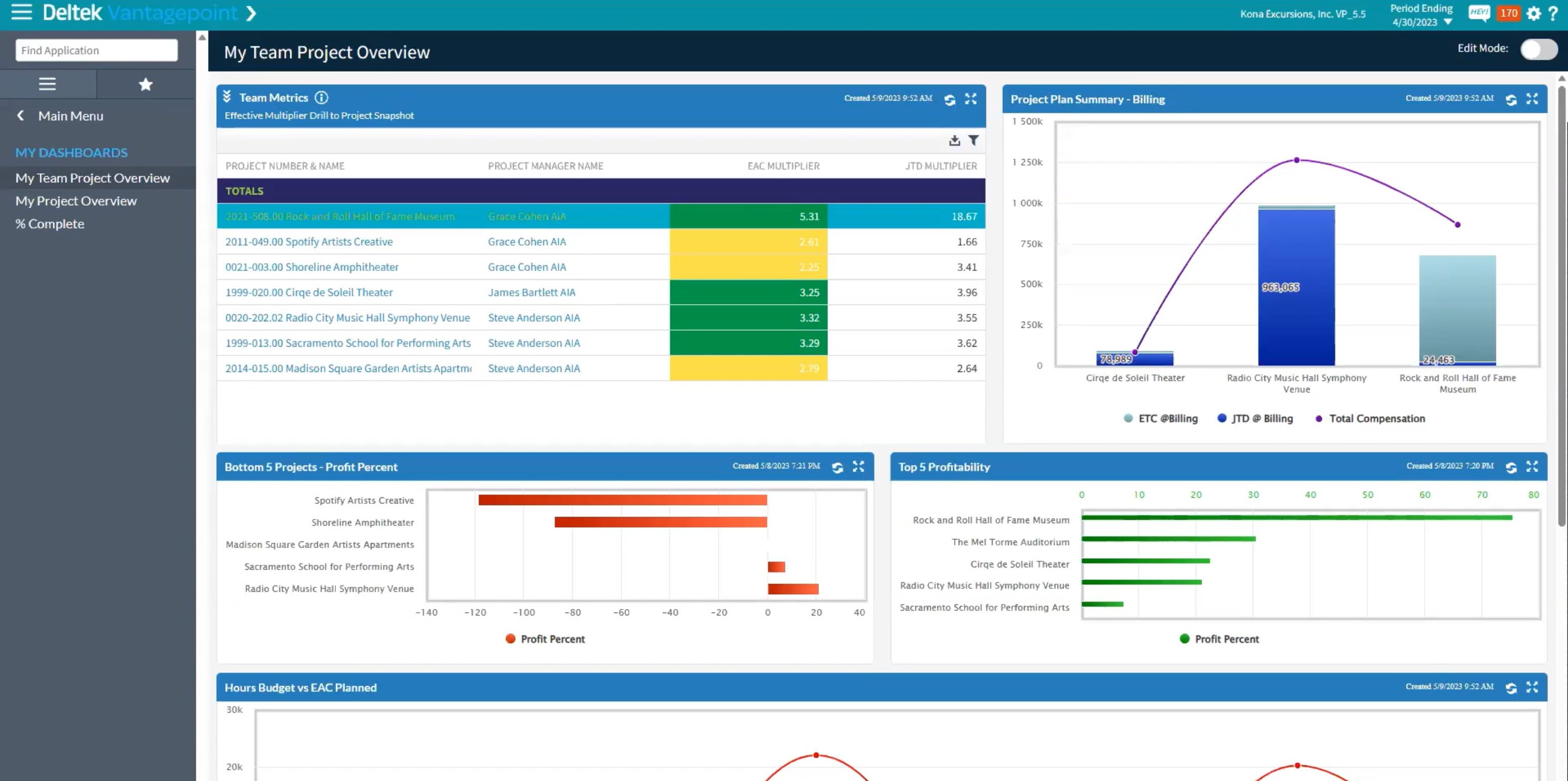 My Project Performance Dashboard
An individual project manager needs a bit more detail. Reports can provide a lot of facts and figures but may be difficult to interpret what it all means. A dashboard like the My Project Performance Dashboard provides basic visual information about the state of the projects, lets the project manager quickly see where projects might be going sideways and offers the ability to jump to the issue to dig in further.
Keeping the users in your Deltek Vantagepoint system with the data increases the likelihood that they will see and address issues in a timely manner.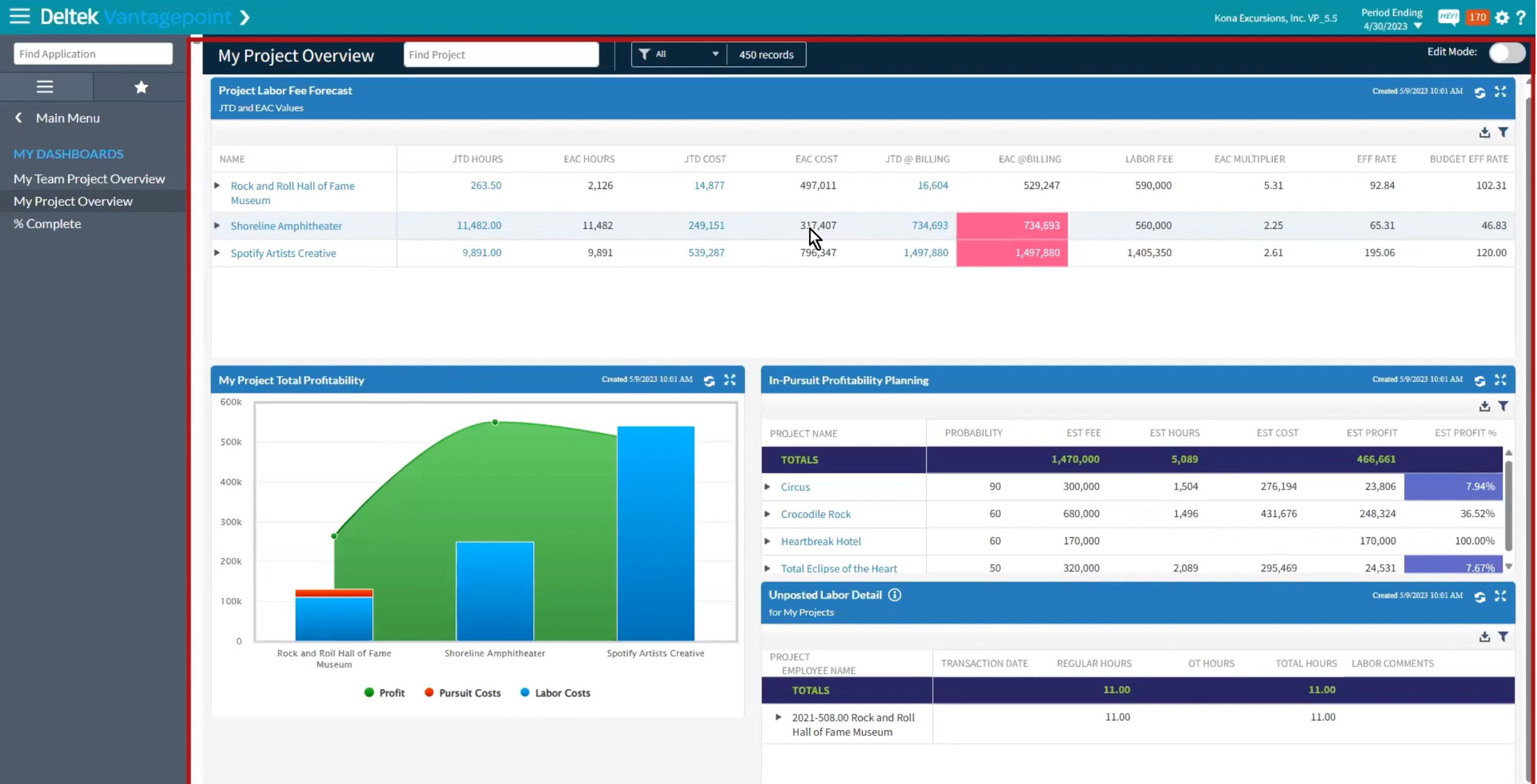 My Project Percent Complete Entry from Dashboards
The interactivity of Dashparts is increasing with every release of Deltek Vantagepoint. Most dashparts can be built with drill down capability and the ability to jump from the dashpart to the specific record for a closer look.
The Project Percent Complete Dashboard is no different. This includes a simple project list on the right-hand side. Users can click on the contact's name, for example, to bring up the contact information to quickly send an email or make a phone call. This dashboard also includes one of the most popular interactive dashparts, Percent Complete Entry. Users can update the weighted percent complete for their projects. It's never been easier to update percent completes!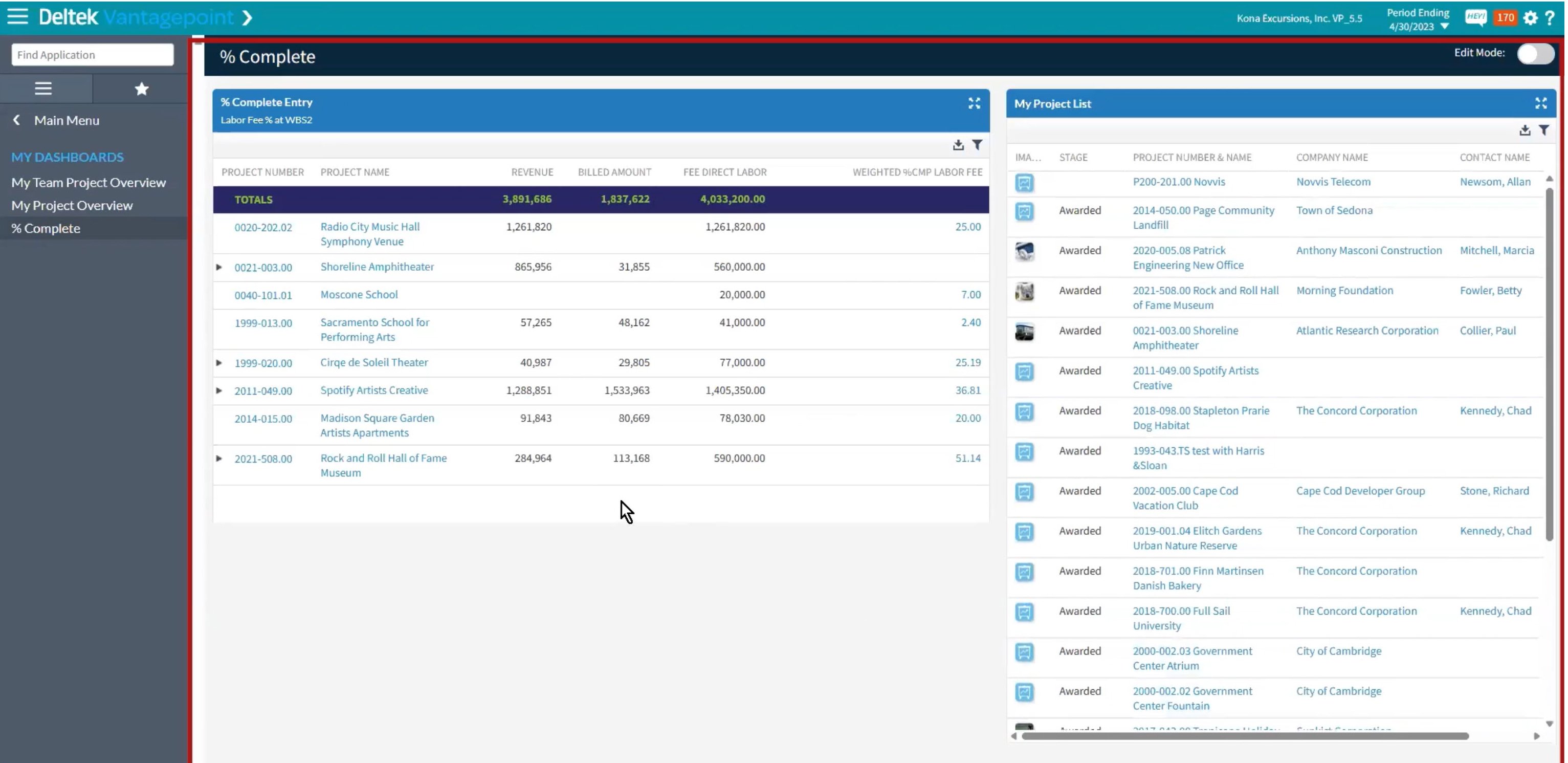 Click here to watch the opening act of the Dashboard-Palooza to quickly oversee and manage your project performance.
Finance & Project Accounting Oversight in Deltek Vantagepoint Dashboards
Theresa DePew took the stage for the second act of Dashboard-Palooza, where she showcased the Finance & Project Accounting Oversight Dashboards of Deltek Vantagepoint. With these dashboards, finance, and project accounting professionals can stay on top of critical metrics like revenue, expenses, and profitability. Theresa's mini-demo empowered attendees to make informed decisions and manage finances and projects like pros. Just a few of the dashboards are summarized below. Watch the entire second act by clicking here.
Finance Dashboard
This dashboard provides a snapshot of the firm financials. We've built this dashboard to include Profit & Loss Accounts Last 3 Months, AR Unpaid Detail, and Receipts -This Month dashparts.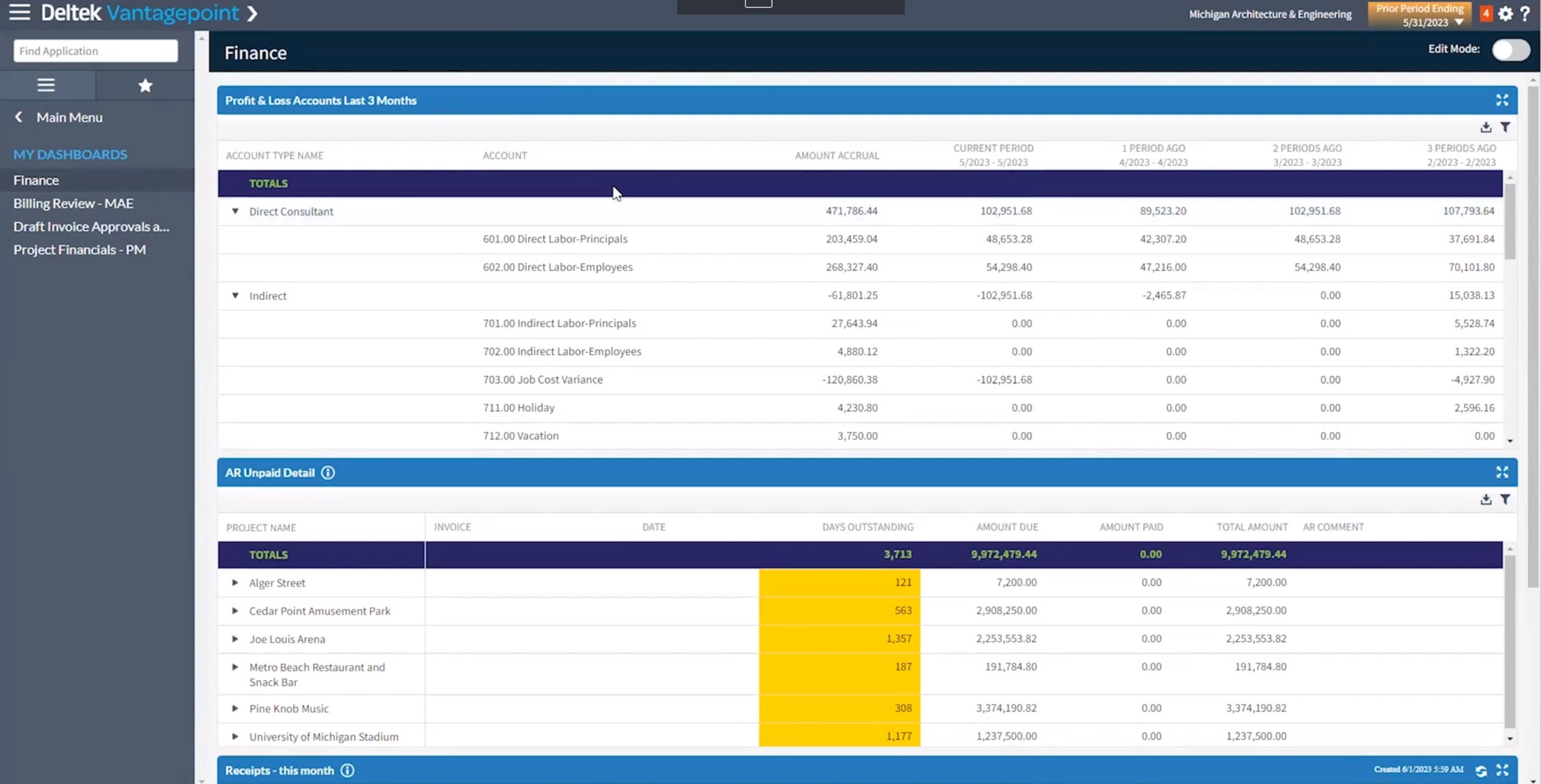 Billing Review Dashboard
This billing review dashboard provides an at-a-glance view of your firm's unbilled and accounts receivable. You'll notice that this is a project-based dashboard that allows you to add a filter at the top of the dashboard which filters the data for the entire dashboard not just a dashpart. This filter uses the same project records saved searches that you would find in the Projects hub.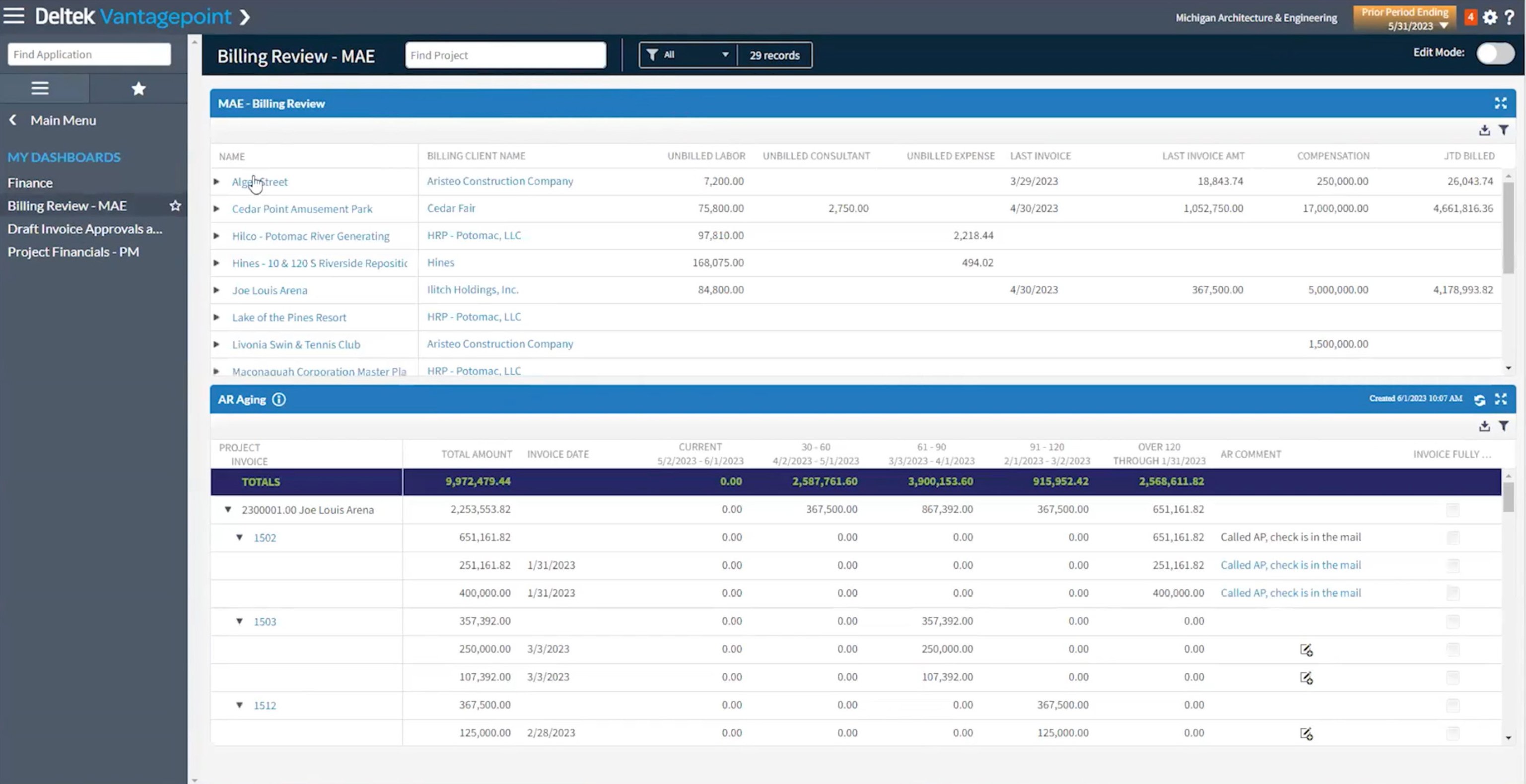 Draft Invoice Approvals and Unbilled for Project Managers' Dashboard
A&E firms need to bill clients in a timely manner to have a steady cash flow to run their firms. That's why keeping track of invoice approvals and those projects that have yet to be billed is so critical. This dashboard makes it easy for project managers, principals, and accounting teams to quickly see and manage the invoice process. Best of all, this is an out-of-the-box dashboard that comes built for you with Deltek Vantagepoint.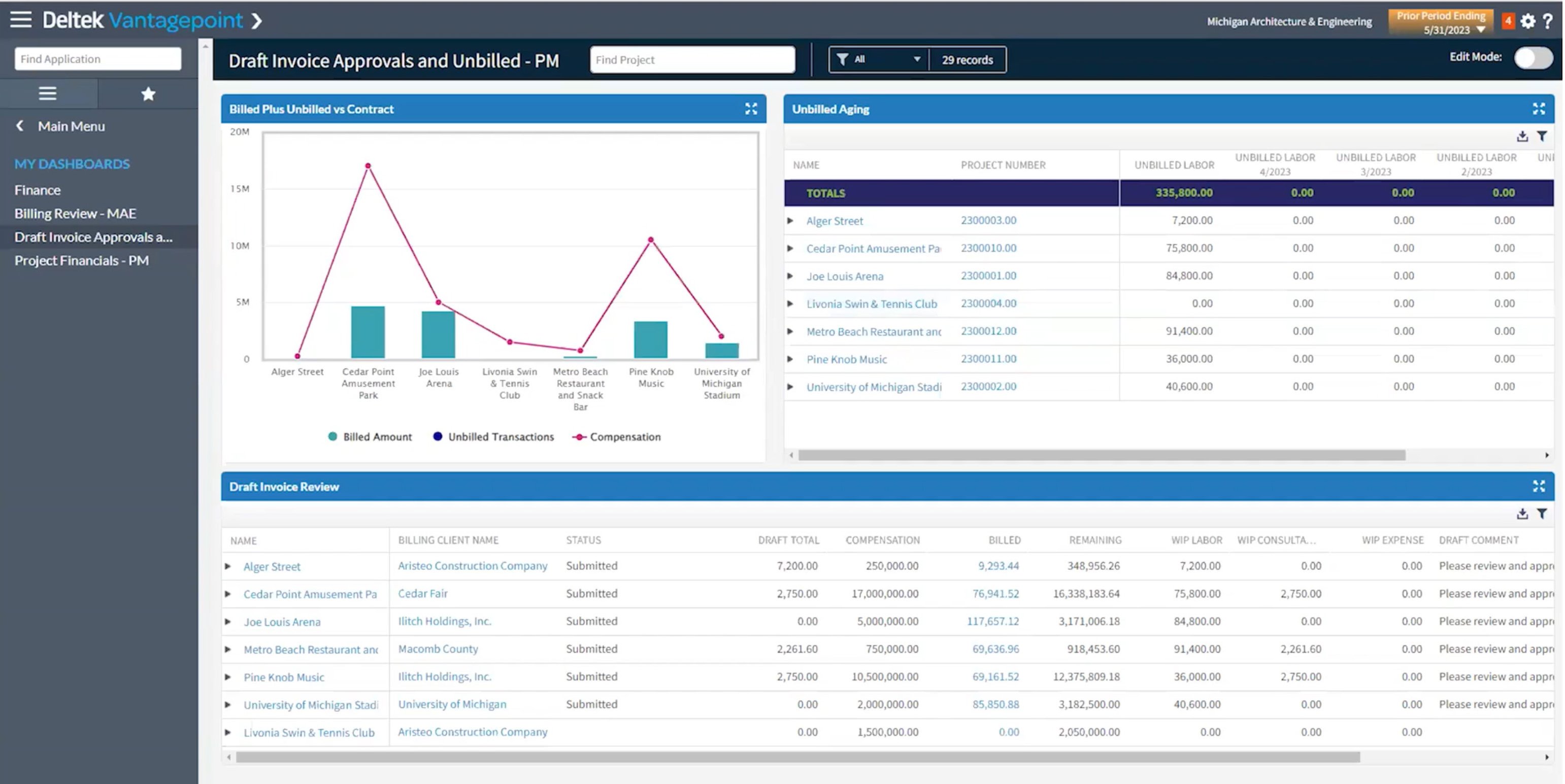 Project Financials Dashboard
This dashboard was created by one of the Full Sail Partners' consultants. The "Billed Amount by Target Sectors" shows you how much has been billed by Project Type (or market sector). This dashboard also contains "YTD Billings and Revenue" and "Project + Linked Promo Cost" dashparts.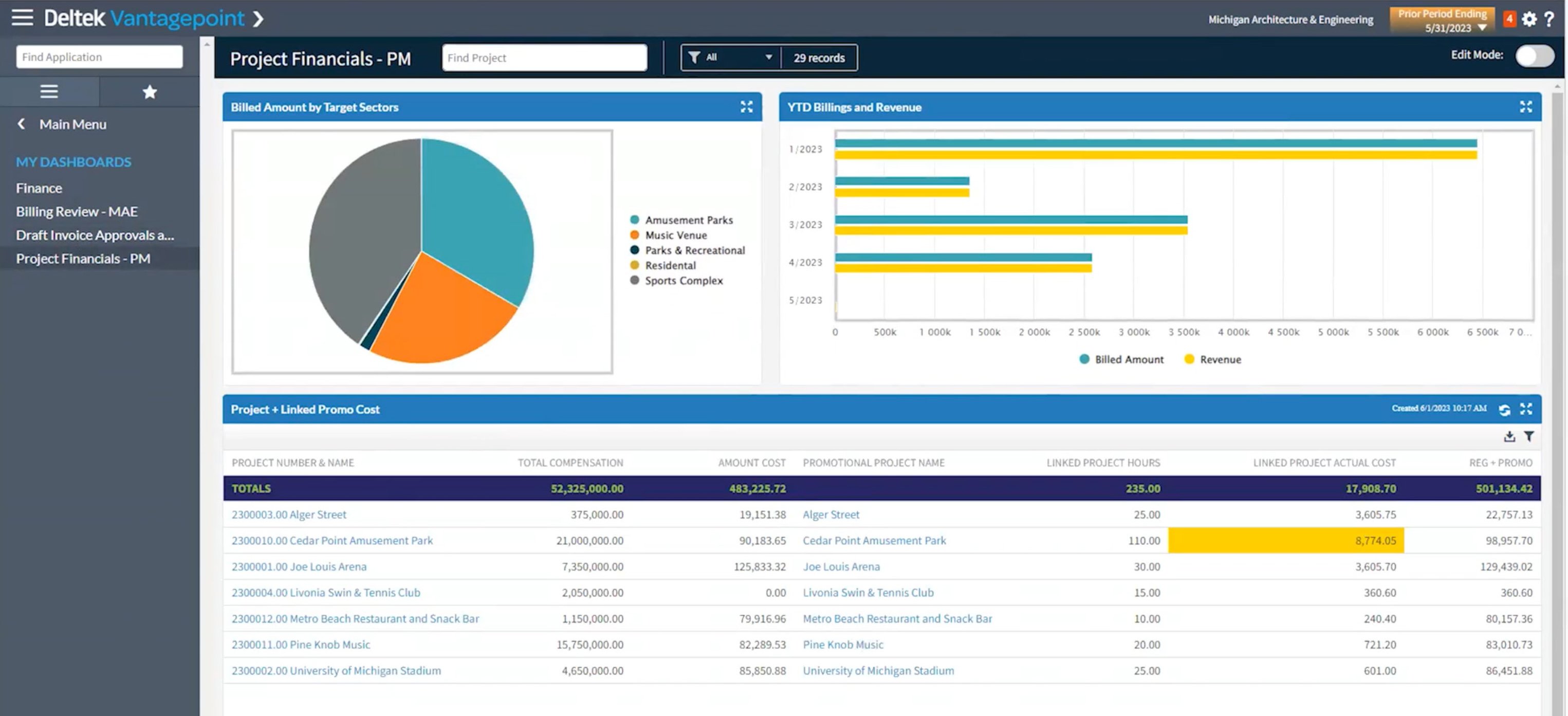 If you would like to see these dashboards in more detail, check out Theresa's mini-demo here.
Marketing & Sales Oversight in Deltek Vantagepoint Dashboards
In the final act of Dashboard-Palooza, Amanda Roussel took us on a journey through the Marketing & Sales Oversight Dashboards of Deltek Vantagepoint. Attendees discovered how these dashboards can help teams identify opportunities, optimize strategies, and drive revenue growth. Amanda's featured dashboards and dashparts included:
Firms' Sales & Marketing Dashboard
This informative dashboard offers valuable insights and customization options for showcasing marketing stats and individual performance metrics. It includes a Pursuit Count chart displaying pursuits at different stages, with estimated and weighted fees. The dashboard also features a Proposals Submitted This Year section, a Year-to-Date Projects Awarded overview, a comprehensive Sales Pipeline view, and a Client Activity Status report. With visual representations, filtering options, and color-coded indicators, this dashboard empowers A&E firms to optimize marketing strategies, track progress, and nurture client relationships effectively.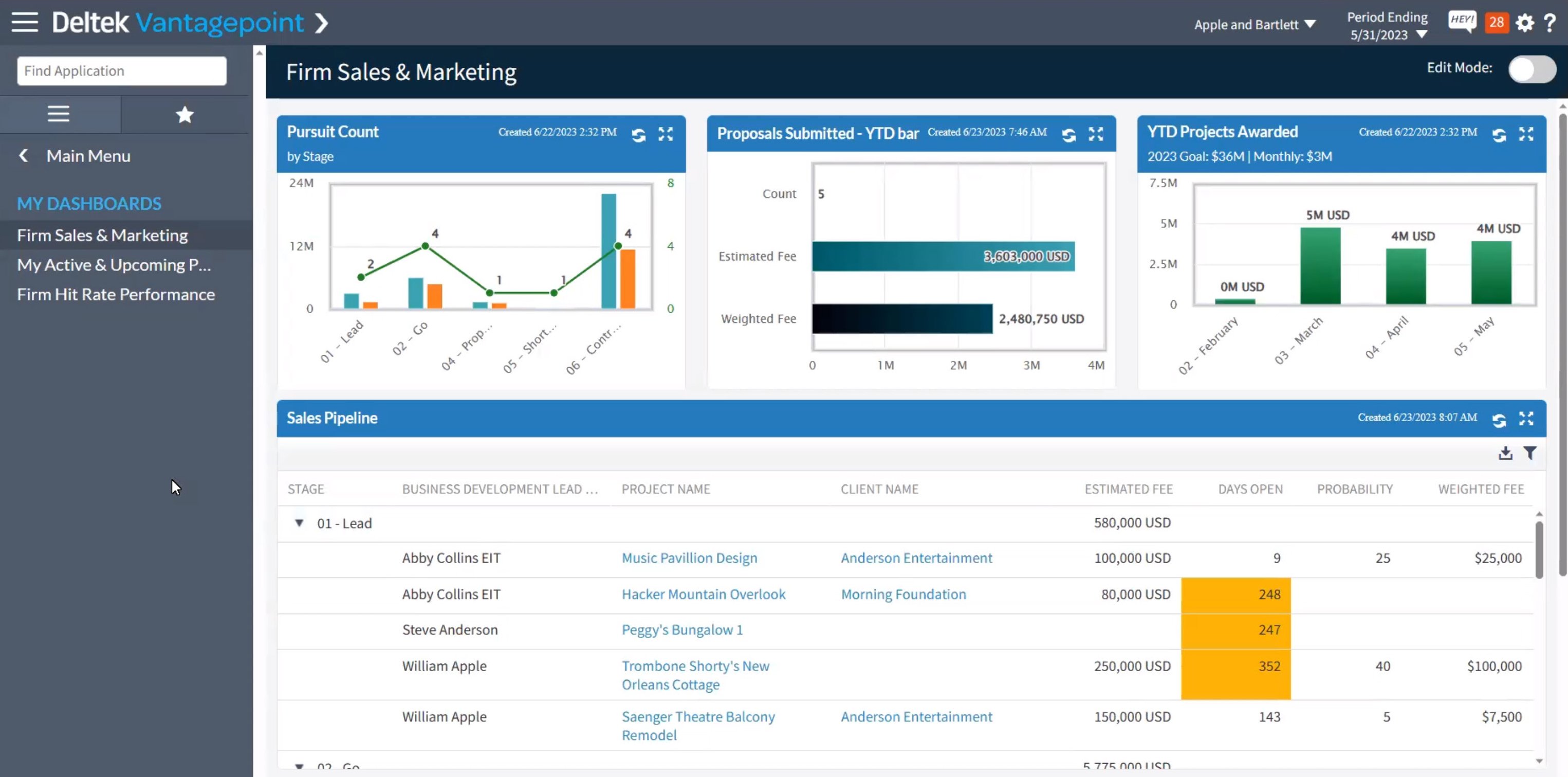 My Active & Upcoming Proposals Dashboard
This next Dashboard in Deltek Vantagepoint focuses on personal involvement within pursuits. The "My Pursuits by Stage" chart provides a filtered view, displaying stages from lead to contract management, along with estimated and weighted fees. The "My Active Pursuits" table, specific to the Business Development Lead, offers insights into upcoming proposal due dates and enables sorting and filtering. The "My Activities" dashpart allows for efficient task management, with toggles for timeframes, completion markers, and notes. The "My Sales Awarded YTD" tracks estimated fees for awarded projects. Lastly, the "My Pursuits + Linked Promo Cost" dashpart showcases promotional project details, including linked promotional costs, hours, and a visual indicator for high percentage charges.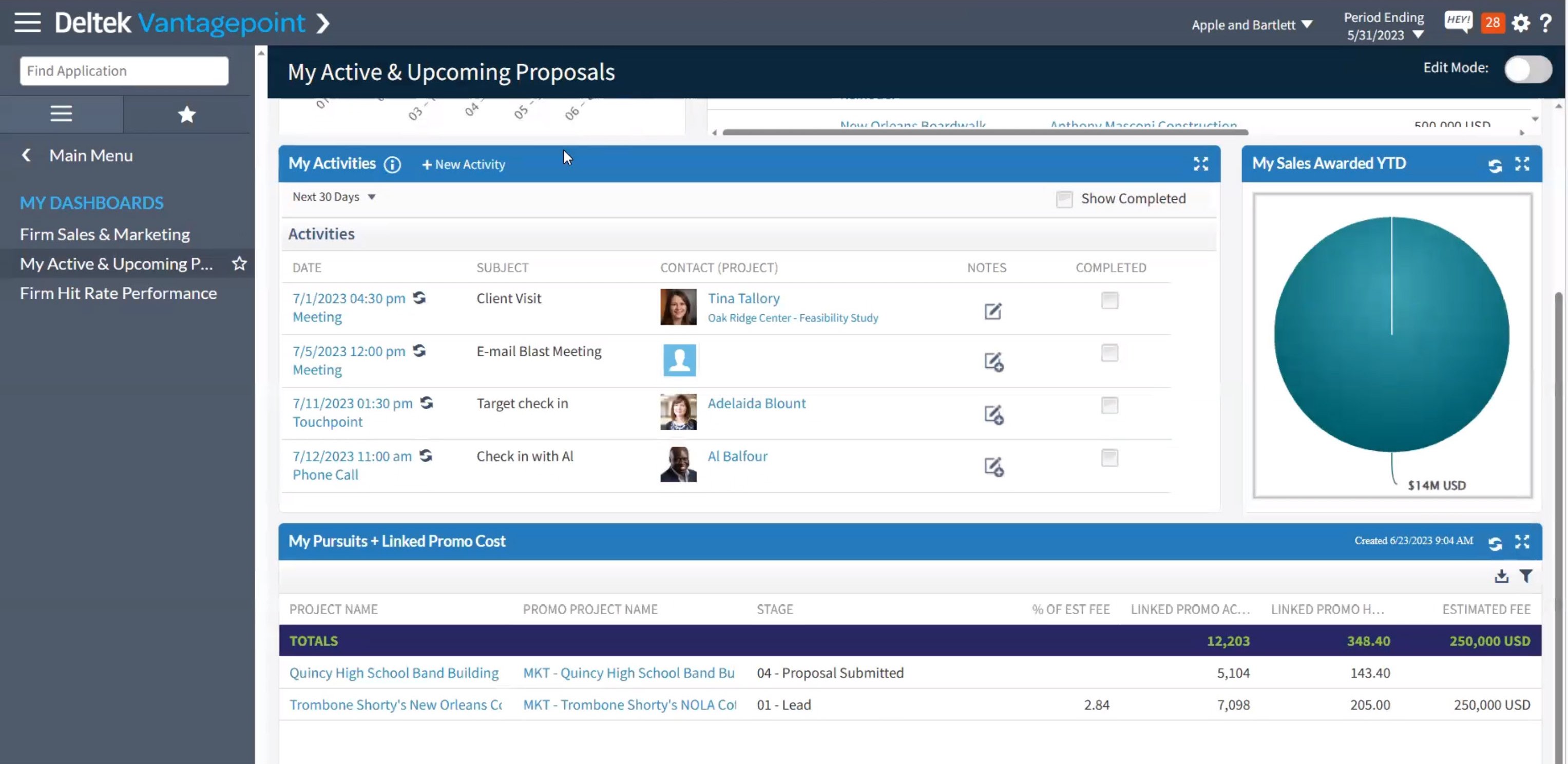 Firm Hit Rate Performance Dashboard
The Firm Hit Rate Performance Dashboard in Deltek Vantagepoint provides an overview of the firm's success rate. The "Firmwide Hit Rate YTD" chart calculates hit rates based on estimated fees, presenting the percentage of awarded versus lost projects. The "Hit Rate by Project Type YTD" breaks down hit rates by project categories, displaying wins versus losses and estimated fee amounts. Additionally, the dashboard offers insights into the reasons for winning and losing projects in the last quarter, represented by pie charts based on project count. The "Pursuits Won & Lost Last Quarter" section on the right-hand side provides a summary of the firm's performance in terms of pursuits won and lost.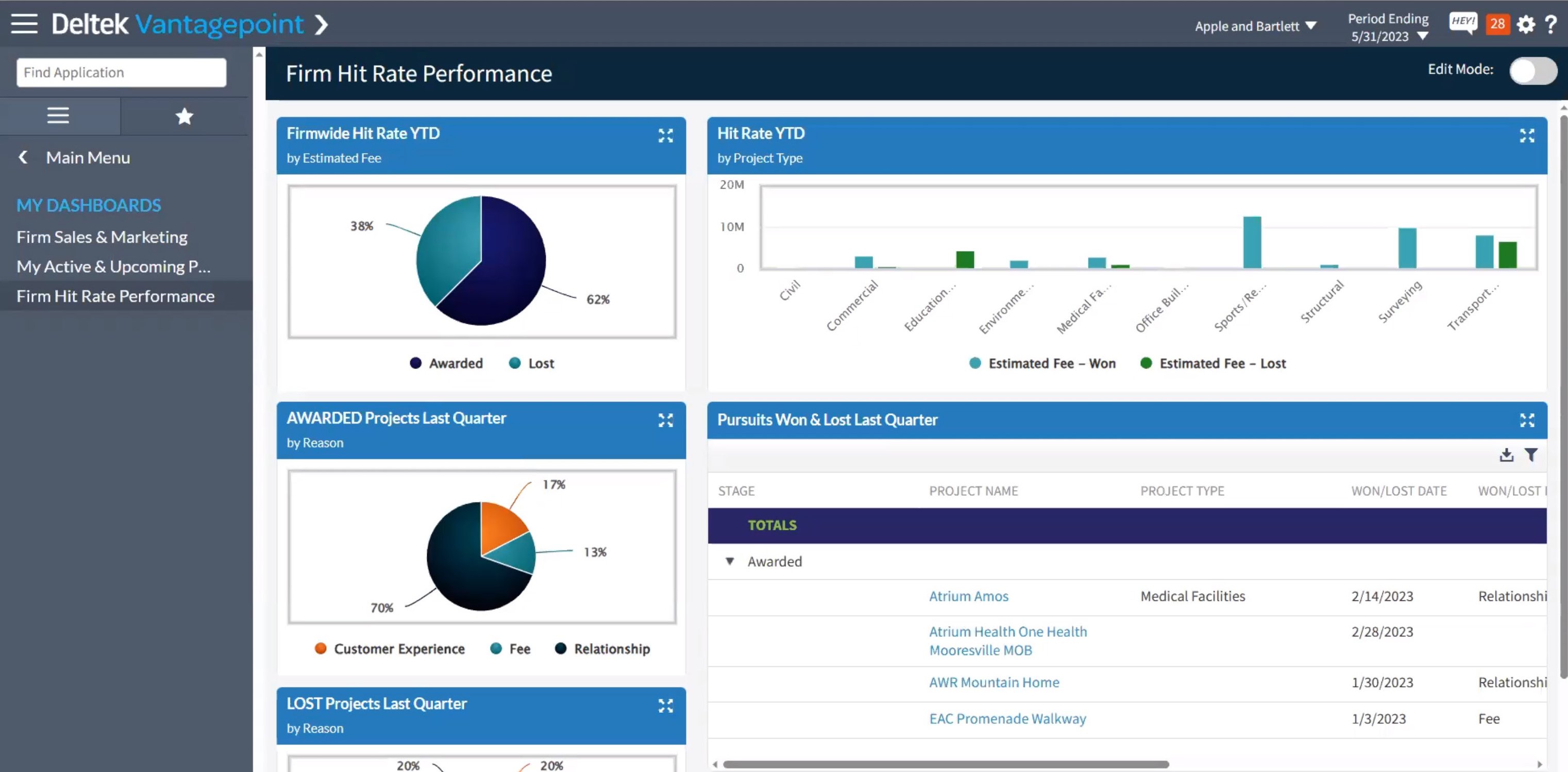 By leveraging Deltek Vantagepoint's Marketing & Sales Oversight Dashboards, A&E firms can unlock the power of data-driven decision-making, ultimately achieving remarkable sales and marketing results. To see all of these in more detail, check the final act of this series.
Experience the Power of Deltek Vantagepoint Dashboards: Watch the Recap of Dashboard-Palooza's Electrifying Acts!
Dashboard-Palooza was a tremendous success, providing attendees with valuable insights and actionable takeaways. Deltek Vantagepoint Dashboards empower collaboration and efficiency for A&E firms, enabling project managers, finance and project accounting teams, and sales and marketing professionals to thrive in their respective domains. Click the image below to watch each act in the show.