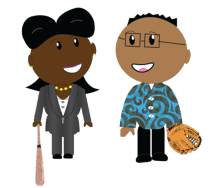 The long-term success of a sports team cannot be determined by looking at just one factor. For a sports team to truly excel, it must triumph on many fronts. From scouting the best talent to strategizing offensive and defensive plays for cohesive team execution, the team manager must create a winning formula that, when utilized, brings continuous success for the team. This is also true for professional services firms, and finding the right formula for your team can become less of a guessing game with the tools available from Deltek. Let's see how Deltek can help your firm knock it out of the park.
Winning the War for Talent
We all know that finding and attracting the best players for your team is a time-consuming process. Even more, tracking their training and development can be laborious. With Deltek Talent, however, professional services firms can easily overcome these challenges.
Deltek Talent provides a complete view of the entire human capital management process. From recruiting new talent to career development and employee performance management, Deltek Talent is a unified talent management solution designed to help your firm recruit and retain top talent. Using this Deltek tool, your team will be a group of all-stars.
Winning Repeat and New Business
Taking advantage of every opportunity and identifying every weakness in your opponent is how to win a game, and the same can be said for acquiring business in the professional services industry. Using Deltek CRM, your firm will gain visibility into the entire business development process, from prospect to opportunity to gaining the new business. Most importantly, presenting your winning solution in a compelling way to your key contacts is vital to setting your firm apart from the competition.
With Deltek CRM, you can access the actual past performance of similar projects you're bidding on with the data stored within Deltek Vision and Deltek for Professional Services. This feature easily allows you to create proposals based on actual firm performance, and they are quick to produce with the proposal automation capabilities of Deltek CRM. Now, that's a game changer.
Winning with Project Delivery
To build your game plan, you must first know who is available to play or whose injury would prevent the best performance. The same goes for project management in a professional services firm. Using Deltek Vision and Deltek for Professional Services, your firm will have the resource planning capabilities needed to ensure staff utilization is being maximized so that you are never blindsided in your projects. Even more, instant access to project metrics and performance data helps guarantee projects will stay on track.
Win with Deltek
In Moneyball: The Art of Winning an Unfair Game, by Michael Lewis, there is a Pete Palmer quote, "Managers tend to pick a strategy that is the least likely to fail, rather than to pick a strategy that is most efficient. The pain of looking bad is worse than the gain of making the best move." Fortunately, professional services firms don't need to play this guessing game when using Deltek tools. Let Deltek help your team find the right formula to win on all fronts. Wouldn't you like to have the upper hand?