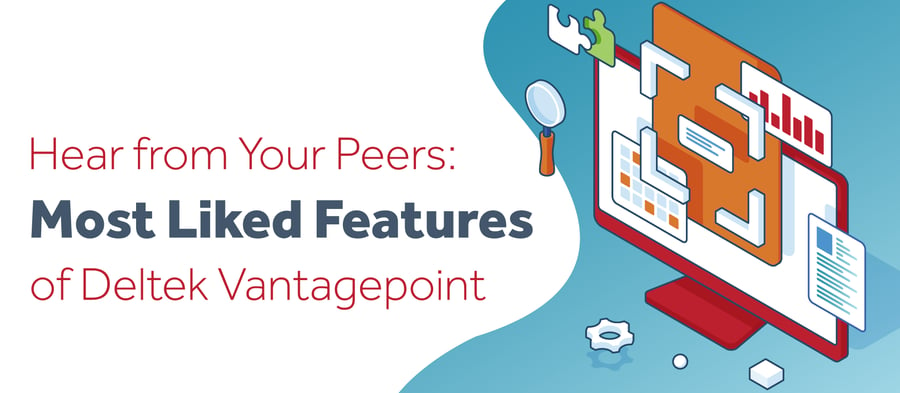 With Vantagepoint, Deltek has completely reimagined Vision, but what truly are the most liked features of Vantagepoint? Don't just rely on the thoughts of Full Sail Partners, hear directly from your peers about what they consider to be the best features. In this second article of a three-part series, architecture and engineering firms were asked what their most liked features of Deltek Vantagepoint are for their firm's users.
Featured Firms
The clients that are featured in this series are a mix of small, medium, and large firms. Also highlighted are specific contacts who serve in different roles within their firms. They each were in a different phase of the upgrade process when we met with them. The clients providing their feedback include the following:
Argus Consulting, Inc. 
Nancy Smith, Project Controls
Karen Pattison, Controller 
CSHQA
Andrea Kier, Business Development
RIOS
Jessamyn Davis, Chief Operating Officer
Structural Integrity Associates, Inc.
Paul Arnone, Applications Support Manager
Ware Malcomb
Brad Mathias, Director, Financial Planning & Analysis
Easy-to Navigate, Modern User Interface
A user interface (UI) guides users – it's a chain of screens, pages, buttons or any visual element that interacts with a user. Having a good user interface can ultimately change the way users work and process information for the firm. With Vantagepoint, Deltek completely re-imagined the Vision interface making things more efficient, quicker, and it easier to find and analyze information. It's not going unnoticed.
Andrea – What I noticed right away [in Deltek Vantagepoint] is there's a much more user-friendly, visual with the interface. It seems more appealing. I think a lot of our staff were avoiding Vision because it looks like something that's difficult to figure out or something that is, you know, very techy. Vantagepoint now is a web-based interface. It just changes the feel of what you're dealing with. For me, that was really encouraging.
Jessamyn – For some reason for the casual user, it being a web interface really changes how often they're willing to jump in Vantagepoint. I can't relate to that, but it's really made a huge difference rapidly.
Intuitive Dashboards
Dashboards are one of the most beneficial and functional parts of an ERP system, like Deltek Vantagepoint, and yet are often the most underutilized. As part of Deltek's re-imagination of Vision, a lot of thought was placed into the ease of use and design of the Vantagepoint dashboards including pre-built dashboards ready for new users. Here's what a peer had to say:
Jessamyn – For our everyday users, the visual nature of the dashboards and how easy it is to create and customize them from the dashboard library is a great feature. It's just fantastic. It's a total game changer for getting people in the system and using it every day.
It's not just dashboards but saved searches and reporting that gets improved in Deltek Vantagepoint. Watch this webinar to explore the changes related to the system visuals and what firms should do to prepare for the change.
One Project Record for the Entire Project Lifecycle
For project-based firms, managing the project lifecycle efficiently is essential to having a profitable business. Even more, the processes that drive the firm's project lifecycle must be in sync with the systems used to manage it. Deltek Vantagepoint meets this challenge with the creation of the Projects hub, which allows firms to track everything from project identification through project closeout in one record. Users agree this process is simpler and more efficient when managing their project lifecycles.
Brad – The combination of opportunities and projects into one project lifecycle is an insanely great improvement.
Jessamyn – The combination of opportunities, projects, and project plans into one record and not constantly trying to link one thing or a project, etc. has been a big change. It's a very big improvement in logic of the system.
Nancy – The new Projects hub is different than in Vision. Projects are now in their own hub with everything in the same project record.
See how Deltek Vantagepoint supports the entire project lifecycle from lead identification to pursuit and final project execution in this webinar.
Full Sail Partners' Input on Best Features
Even though this article focuses on what peers most liked about Deltek Vantagepoint, we couldn't leave you without sharing the Crew's most liked features. Check out this webinar to see what sets Vantagepoint apart from Vision and why you should be excited. It covers the Top 10 features along with some honorable mentions.
Want to Hear More From Your Peers?
This article is the second in a three-part series, so be sure to check out part one where different project-based firms share their Deltek Vision to Vantagepoint upgrade experience. Whereas the first article covered how the firms prepared for the upgrade, the last article in the series will share some of their upgrade best practices.
To listen to their upgrade experience, watch the webinar that is linked below.