Finding helpful and insightful information just got easier for Deltek Vantagepoint clients. The Powering Project Success with Deltek Vantagepoint mini demonstration series is a growing library of video content for Vantagepoint users of all roles and skill levels. Each video is five to twenty minutes long and about a specific feature and function available in Vantagepoint that many are unaware exist or are unsure how to use.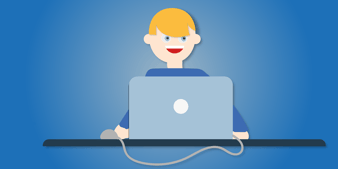 Projects Start with Business Development
Winning work is the first step to initiating a project and Deltek Vantagepoint helps business development (BD) professionals generate and close opportunities. Even on the go! With the mobile CRM functionality, BD team members can easily access and update client information from anywhere using a mobile device. Check out this demo to see how simple it is to review and update client information right on your mobile smart device.
In addition to the great benefits of mobile CRM, tracking Outlook emails and calendar appointments in Vantagepoint CRM is seamless with Deltek Vantagepoint Connect for Outlook. With a few simple clicks, BD team members can conduct typical CRM tasks directly in Outlook. Watch this demo to see how easy it is to create contacts, manage appointments and schedule meetings directly in Outlook.
Simplify Project Startup and Creation
Before work can begin, a client must pay a retainer fee. As simple as this sounds, there can be many parties involved throughout the process. During this mini demo, Vantagepoint accounting professionals can learn how to easily process retainers using cash receipts all while automatically keeping the project manager in the loop through the entire process. As simple as this sounds, it's a favorite obscure feature for many accounting professionals.
Setting up new project and plan can be a time-consuming process that can be avoided using Vantagepoint Project Templates and Plan Settings. Instead of starting each project from scratch, Project Templates and Plan Settings allow firms to use pre-defined work breakdown structures to quickly set up complex projects. Essentially, simplifying the project creation process and ensuring consistency of project records. Watch this demo to see a project set up in less than 10 minutes.
Track Time for Timesheets Easier
Managing projects and clients is already a lot of work for billable employees. On top of that, they are required to track and update their timesheets on a regular basis. Deltek can't create more time in a day, but Vantagepoint can make updating timesheets easier. Using the Calendar feature, users can track their billable time and add it to their timesheet with a few clicks. Check out this mini demo to see how.
Manage Talent Acquisition and Learning
Growing firms need to hire quickly and onboard new talent fast. Attracting and recruiting new talent requires getting the message out about new open employment opportunities. During this demo, human resources (HR) professionals will see how to post open positions across multiple job listing platforms with a simple click.
Once a new employee is hired, getting them started and setting up their training needs to be as simple as advertising for the position. In this demo, HR staff will learn how to set up the new hire onboarding process in an online environment. Additionally, the demo covers how employees can submit required paperwork and info as well as complete self-guided online training.
Get Paid Easier
Before billing a client, it's important to make sure the invoice is correct. This internal back and forth process between project managers and accounting can become time and paper consuming. After watching this demo, accounting professionals and project managers will both be relieved once they see how easy it is to digitally markup invoices and resubmit them to accounting.
The ugly side of accounting is having to bill and collect interest from clients. Well, Deltek Vantagepoint can't talk with clients about late payments, but it can make charging interest easier. Learn how to set up billing terms in Vantagepoint to make collecting and tracking past due balances easier in this demo.
Deltek Vantagepoint Provides Answers
Reports after report, Deltek Vantagepoint as them which is great. However, picking the right report can be confusing which is not Deltek's intentions. In this demo, picking the right project planning related report is thoroughly explained along with the context about how each report is created. This demo is great for those tasked with forecasting project performance.
What seemed like a dream for project managers is a reality in Vantagepoint. With the combination of project planning and budgeting in one hub, project managers can quickly review project success based on both of these data inputs. The Project Review demo shows how Vantagepoints pulls from both these data sources to help ensure projects are profitable.
Maximize the Benefits of Deltek Vantagepoint
Getting work done just got easier for Deltek Vantagepoint users! While these are just a few of the mini demos available in the Powering Project Success with Deltek Vantagepoint series, more are available using the link button below. Make sure to regularly check out the growing demo library for updates and share these with coworkers.